As our forays into app development show, we're keen to explore how new tech can enable a more inter-connected world. Our community events listing function is all about extending the Shambala community spirit beyond August bank holiday. Whilst there are so many positives about our hyper-connectivity, the current offering of (anti?) social media platforms are hugely flawed – geared towards maximising screen time and harvesting data from citizens for the profit of giant corporations. We deserve better, and the technology exists for us to take the power of digital networking back into our own hands.
We're keen to step out of tired techphobic responses to the ills of the world, instead, framing technology positively and empowering people to get behind tech that can connect us and democratise the murky backstreets of algorithm. This is what motivates how we are making our own app, writing into it a vision for tech that puts people and genuine connectivity first.
We asked social entrepreneur and good news journalist Pasco to give us a guide to the best apps and platforms (re)connecting people. Check out Pasco's TedX talk on 'How to made a positive impact' here.
Authored by Pasco.
What is that intangible feeling you get when you're a part of something?
The purpose of a protest.
The ownership of a football team.
The togetherness of the temple.
The openness of a festival.
The belonging in the NHS.
Underlining all of these parallels lie a foundation of trust, shared interests and experiences.
In this era of technological boom, our screens and online presence are taking away our social abilities. Depression, anxiety, and loneliness are rising, particularly in the youth of today, who never knew a world without the internet of (dis)connection.
So how do we optimism more opportunities for communicating, collaborating and socialising face to face?
Let's start at the very beginning…
Community.
Def. "A group of people living in the same place or having a particular characteristic in common."- Oxford Dictionary.
 Common — unity: Shared place, identity or interest.
So it's defined as a common 'factor' that people have, that brings humans together. And this, in turn, gives us a sense of belonging, trust, companionship, togetherness and ultimately love. Which in turn, makes us feel appreciated, understood, content, happy and fulfilled. We find purpose and meaning in each other's similarities. It is important to have access to spaces and tools that allow us to find those similarities, even across what seems like insurmountable difference.
So maybe this is a good time to ask yourself some reflective questions –
What communities am I a part of?
Where do I feel most belonging?
How valuable is it, to me, to feel a part of a community?
PROBLEM:
If you don't read the news much, it's worth knowing there has been a lot of progressive work highlighting of loneliness, social isolation; and the mental health effects. With rising technology use and attention-craving screens, people seem to be drifting blindly into increasingly isolated lives, where our ever more virtual relationships are changing the way we interact in person, body to body.

SOLUTION:
Creating more social opportunities for neighbours (strangers) to meet one another.
Connecting with strangers does much more than tackle loneliness. Conversations between people of different opinions or beliefs, help the two parties understanding one another and respecting each other's views, values and morals. Empathy & tolerance can grow. Opinions have the opportunity to shift and perspective is granted sight of an element of society from another angle. So how do we fruit more of these conversations? How can we allow for more meetings between people of different races, sexes, classes, religions, ages and other differences?
Spaces for meaningful encounters with our neighbours are disappearing, It's harder for pubs and arts venues to stay open, and little to no publicly owned, common spaces, still exist. So where do we find 'the others' in the modern age? Modern organisations helping us connect:
Find the help you need, from your neighbours.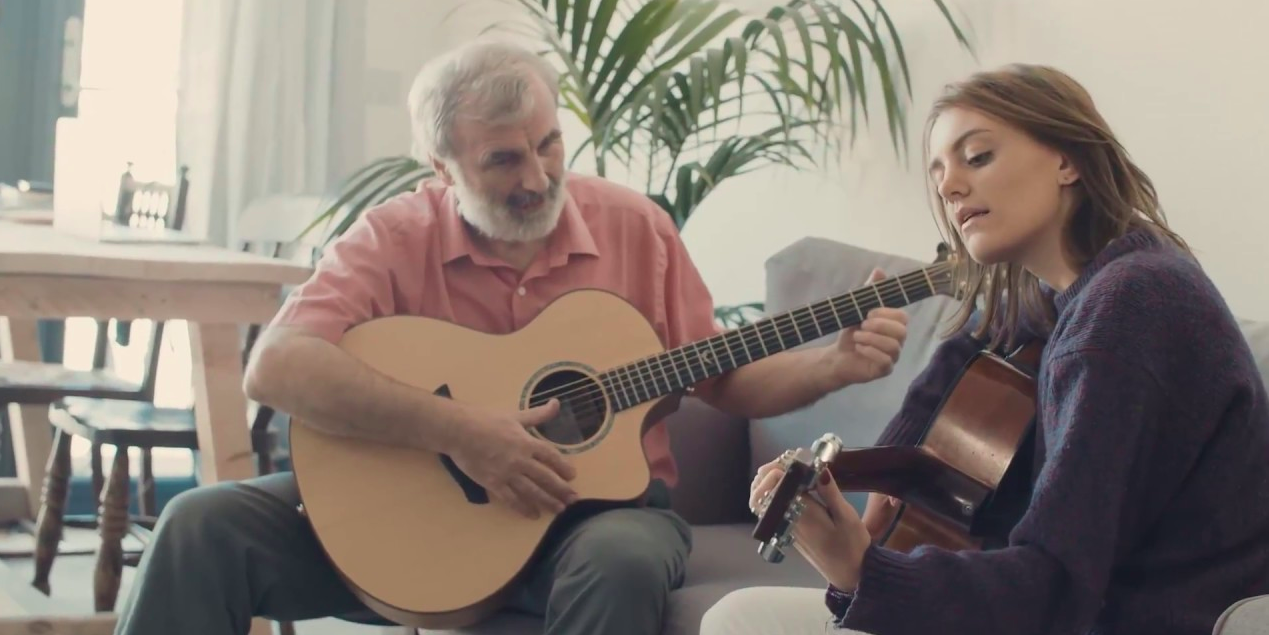 This is a great example of filling a gap that was always present in communities. A place simply to ask other local people for a helping hand. You might need your Grannie looked after, or have a broken boiler, or have a computer issue. Helpfulpeeps is a simplistic site where you can post a request for help with just about anything. The range of asks, span from the practical recommendations of service people, all the way through to people offering an extra seat around their Christmas table. The community on the site are extremely encouraging, thoughtful and caring; there is a genuine sense of altruism and neighbourly love. It's basically a digital community notice-board, and it's beautiful.
The Arc (Islington, London)
Reinventing the traditional community centre.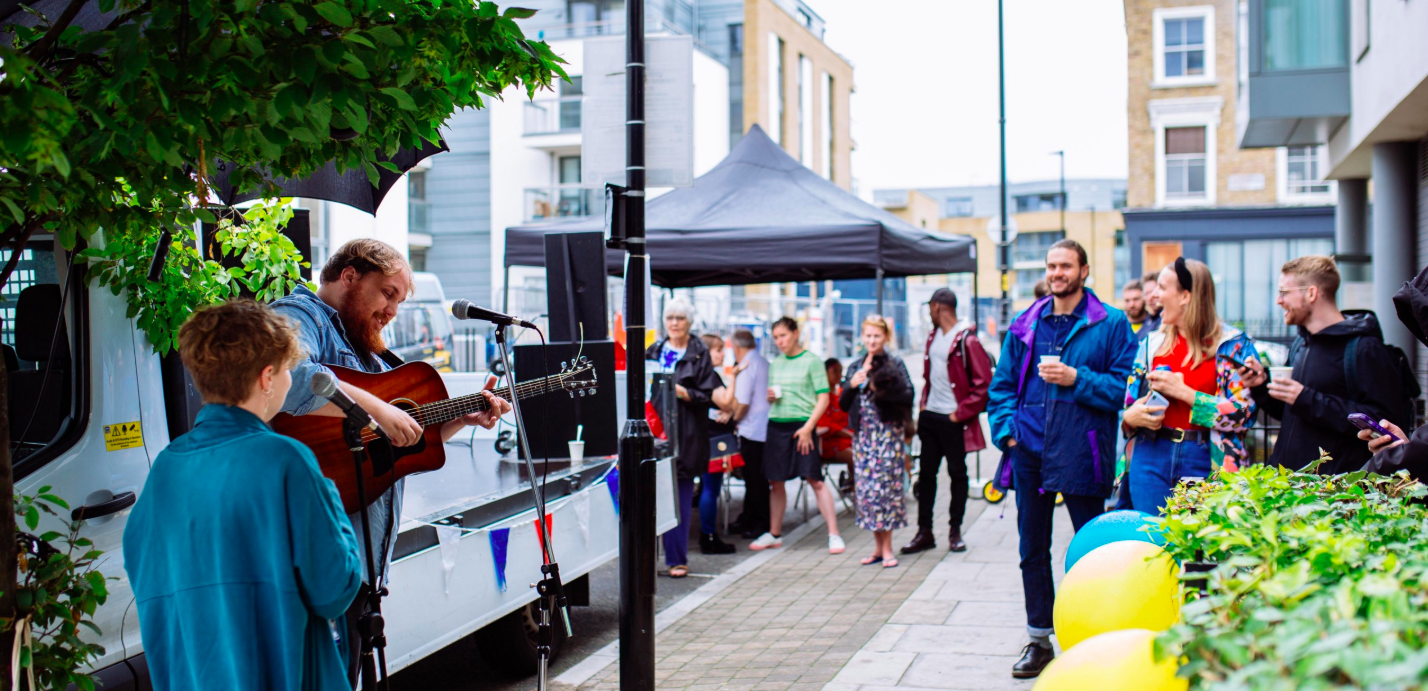 These cool cats are a group of young professionals radically reinventing what it means to build a community centre. They are bringing their modern fields of expertise to challenge the status quo of failing community spaces in London. The group is beginning with The Arc, in Islington. This will be the testbed for their blueprint. Their intention is to create a fool-proof model that self-sustains itself, as a non-profit business, and to replicate it, throughout the countless and growing number of failing community spaces. The key to their method is community involvement, asking local residents and users of the Arc to gradually become more and more involved in shaping, taking care of and continuing the management of the space. The model is based on self-management; facilitating the success and hand over of the space to the community using it.
Fundraise with neighbours, by sharing skills.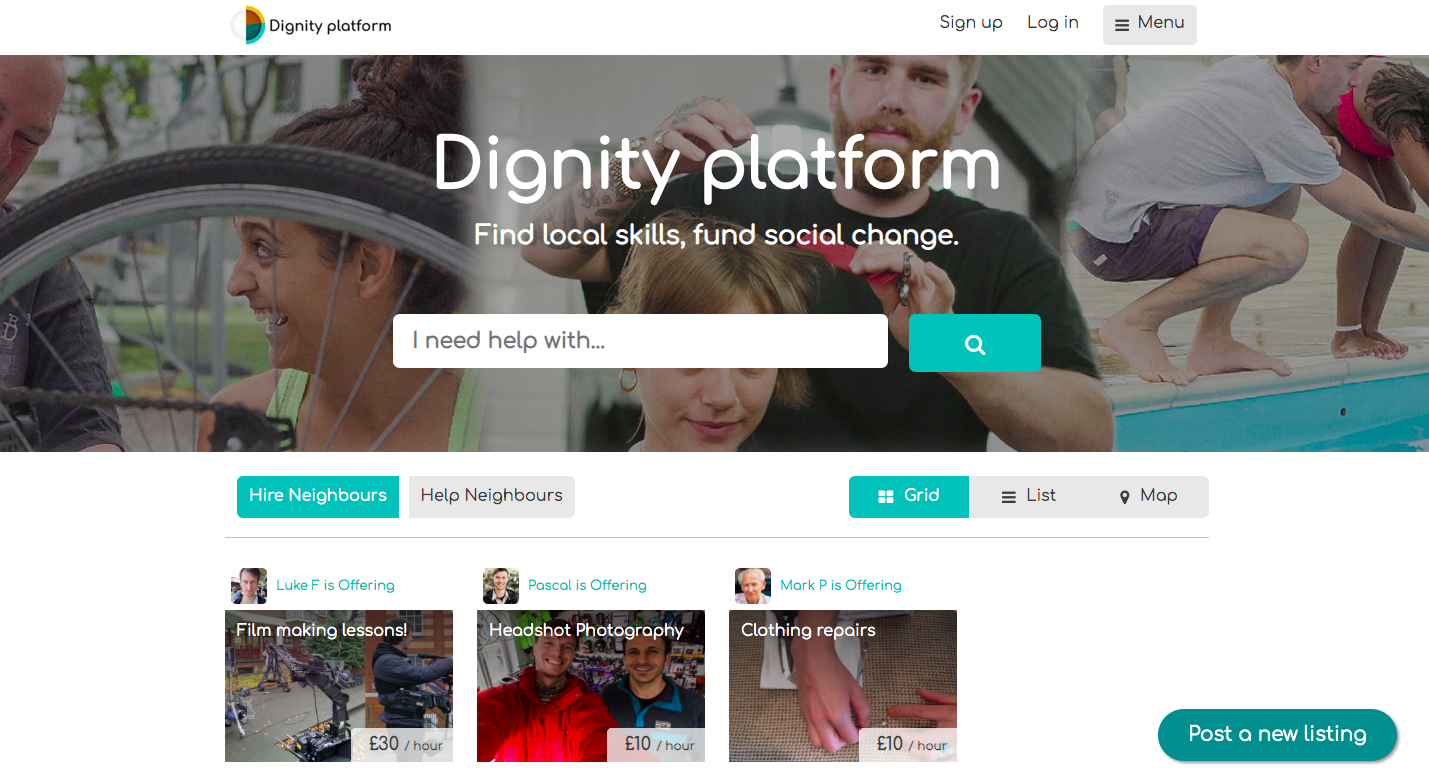 This tech-for-good start-up is reinventing charity fundraising, while simultaneously creating social excuses for neighbours to meet one another. They have created an Airbnb for local skills, where all the money goes to charity. For some this is an opportunity to meet the locals in for a good reason, for others it's a way of creating a significant positive impact, in a way they enjoy. This highly scalable concept is just finding it's feet in Brighton.
Exercise with new friends, while helping out.
You may well have heard of this beautiful organisation. Some genius took physical community odd jobs and a running club and shook them up in one of those protein shaker thingiemerjigs. It's one of those ideas that just makes sense; why wouldn't you turn all that gym sweat and effort into something that flexes your altruistic, social, community muscles too, while saving on the hefty membership fee. Goodgym exists in many cities across the UK and the concept is very simple. Meet at one point, run to a 'piece' of physical community work that needs doing, throw your energy into it, and then run home! You might find yourself digging up a social housing garden one week, and the next painting over graffiti. The sense of community comes from working as a team to get a highly valued job done, with extra vigour and enthusiasm, because everyone wants the exercise too.
Dance with strangers, without social lubricants.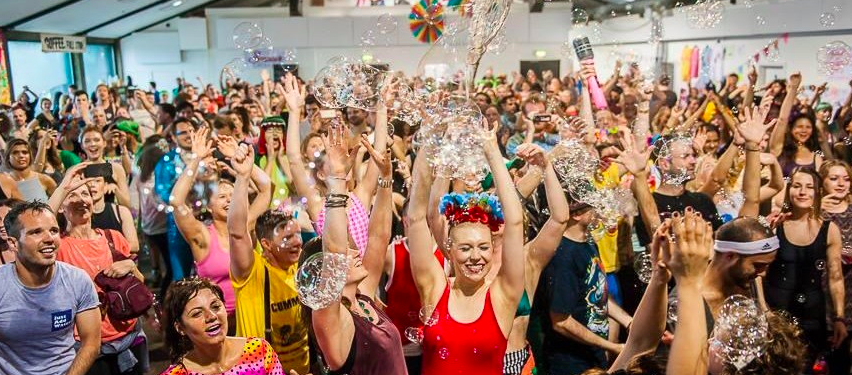 A sober rave. Morning glory combines our love for dancing and playing, with the sober party scene. They host 6am till 10am parties in central London, for those wishing to have a wiggle before their day. The connection and literal vibe in on the dancefloor is quite indescribable because it's so rare; there is a purity to the sober joy and smile being shared. The same openhearted atmosphere you might experience at a festival, minus the sleep depravation and mud. People glitter up, drink energising smoothies and often there is yoga too. It's a wonderful place to meet other like-minded Londoners.
Do things you love, with neighbours you didn't know.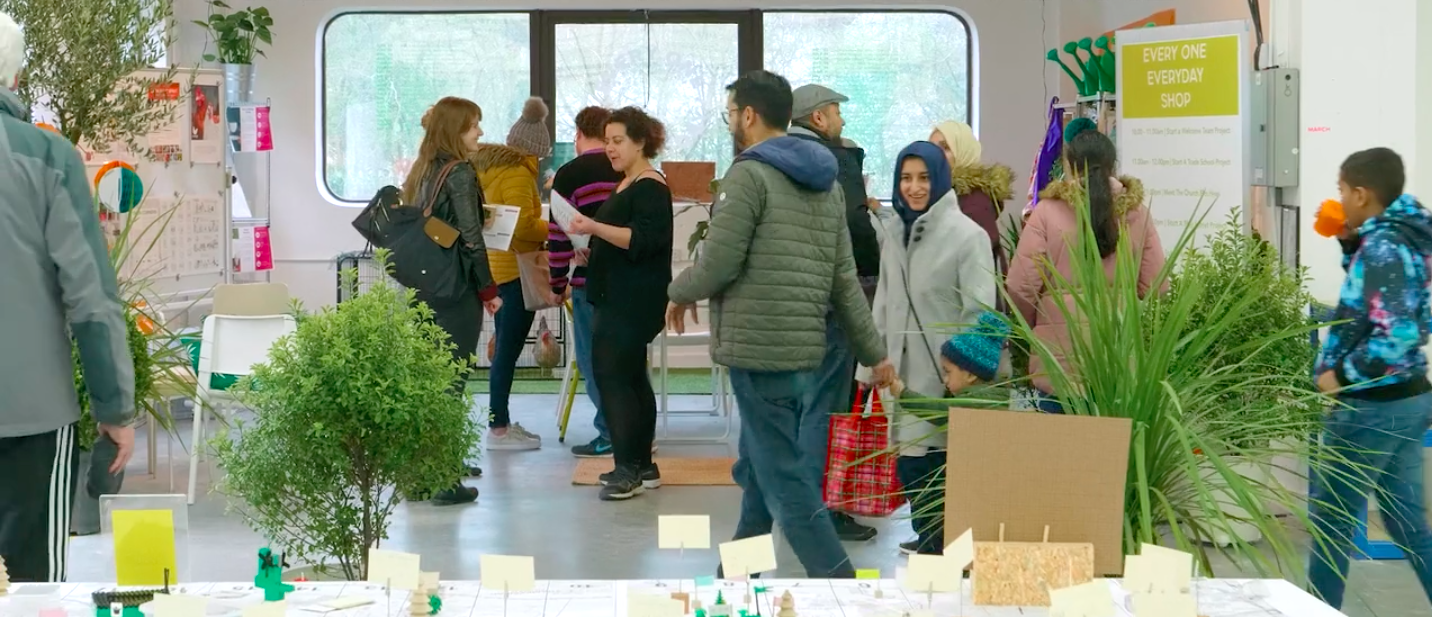 This large-scale, heavily funded project is about getting people together to do 'practical everyday activities'. They are piloting the concept of neighbours launching their own projects, in a sort of supported 'sandbox' scenario on their high street. Imagine it as a sort of 'neighbourhood accelerator'. Think: batch cooking, workshop space for making and fixing, local food production, shared equipment, space to grow ideas. It's all about connecting with your neighbours over something practical.
Connect with others who care about avoiding ecological collapse.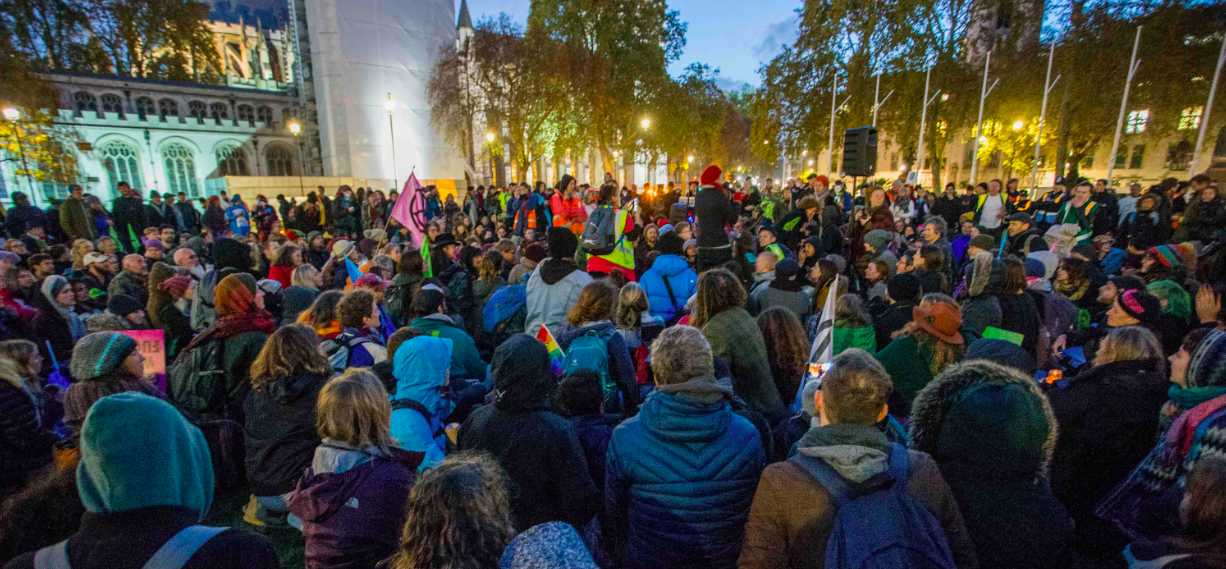 I need not explain the obvious actions of XR, but what I will mention is after having a good look under the hood of the UK team, they are far more than 'just another activism movement'. With self-management at the heart of the gears that turn, the group has a carefully coordinated strategy to begin shifting power away from the centralised systems we sponsor today. Their latest Summer Uprising – Project Mushroom- took cue from the mycelium networks of fungi. Just like a natural fungi network, XR's local action groups are de-centralised, well-organised, organic, connected and coordinated. You can find local community in connecting over this global cause. Read the Adventures In Utopia guest blog from XR here.
…….
And it by no means stops there. Plenty of young social entrepreneurs are redirecting tech and social media, transforming them into tools of genuine connectivity. The trick? Shoring up technologically enabled link-ups with physical, real-world opportunities to connect to the people around us! Be sure to look into these amazing tools to connect in our lonely modern times. And, don't forget to keep checking back on our Community Listings feature on our app (top corner!) for a crowd-sourced array of events happening up and down the country, to re-connect with fellow Shambalans for a cause, a good knees up, or both!