A lot goes on behind the scenes to ensure every corner of Shambala is populated with proper good eggs. We are constantly refining how to champion and give space to folk that represent Shambalan values. Every year we celebrate our food traders who are going above and beyond with procurement practices, community initiatives and environmental policies with our Inspirational Trader Award. As of yet, we have no such accolade for our market traders even though the standards we expect from them are getting more and more robust. As we sink our teeth into how our shopping habits have big social and environmental implications, we're demanding more from the stalls that put up shop at our festival. This is so you can buy quality assured treats and trinkets without trail of devastation in their wake.
We caught up with State of Disarray's Tabitha, who's tale is an unsuspecting story of conscious fashion with heart. You may have seen their wares around the festival circuit. Bold and incredibly sparkly, their "reckless" party wear is hard to miss. You'd be forgiven for thinking that amongst all the shimmer and sequins, sustainability was on the back foot. However, from source to surplus, State of Disarray are a model of ethical fashion practices.
Fair-trade over fast fashion
Sustainability and ethics are embedded into State of Disarray's process. Talking to Tabitha it's immediately clear how considerate her creative process is. Business and pleasure is all about "staying true to our unique creative flow." Her party-wear is exuberant and freeing and therefore shouldn't limit the ability for other humans and planet to thrive too. Tabitha takes inspiration from Orsola de Castro, founder of Fashion Revolution, who is unpicking the threads of exploitation that run deep in the fashion industry. De Castro asks that we "demand quality, not just in the product you buy but in the life of the person who made it."
Living in her home in Hanoi for most of the year, Tabitha is able to make on-the-ground decisions about fabrics and forge relationships with small local suppliers. It's independent business supporting independent business. Cutting out the middle man where possible, and always for the traditional Vietnamese fabrics when used in her designs, Tabitha motorbikes up to the mountain markets to buy direct. This way "the makers are paid at a rate which reflects the true value of their craftmanship." Tabitha is a Vietnamese speaker and mentions that trading in the local language is a big factor in forging ongoing relationships with mutual respect and shared goals for fair trade, quality assurance and limited environmental impact. It also contributes to the collaborative feeling Tabitha has with her local team members considered "to be more like an extended family". From creating internships with real progression opportunities in the company for local women (like the "invaluable" 'Super Hanh') to having tailors set their own price per garment in the prototype stage, Tabitha is transparent about the processes and checks they have for being fair-wage employers.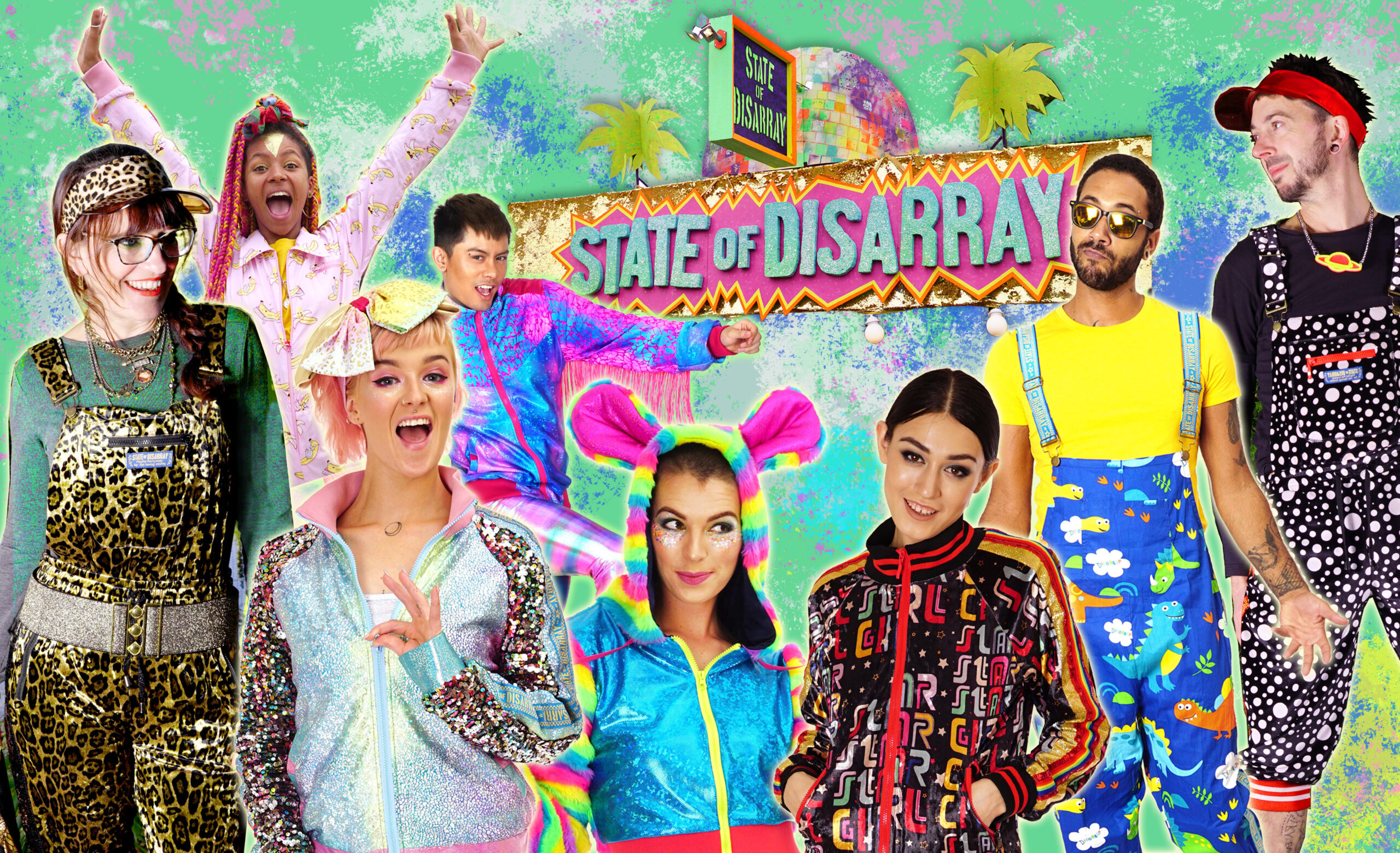 The truth is in the textiles
From source to surplus, Tabitha's approach to fabric is dynamic. State of Disarray use a combination of direct-with-maker sourcing and using designer surplus. What's more they pay-it-forward, donating offcuts from their own production to independent makers and pre-schools in Hanoi. As the founder of an indie fashion brand, Tabitha believes she has the responsibility to educate about textile production. Talking to her it's clear she is excited about the new options "springing up," from "sustainable super fibres" to recycled fabrics made from plastic pollution. Taking cue from Shambala's own 25k25 campaign, for every £3.00 spent on State of Disarray's website trees are planted in a mangrove forest in Madagascar to help offset their carbon footprint; 1.5k trees planted already!
However, Tabitha is switched on to the possible perils of greenwashing, explaining their recent decision to hit pause on their biodegradable cotton range. Referencing the recent exposé on the cotton industry and it's links to the oppression of Uighur people in China, Tabitha talked about boycotting all cotton (even the 'bio' variety) until they can be "110% confident that it really has been ethically produced." An estimated 1 in 5 textile items globally are though to have been constructed in these internment camps: "it's literally hell on earth and no one seems to know it's going on." From forced labour in China to terrible working conditions closer at home, it's becoming increasingly apparent that our clothes can be our complicity in corrupt systems that are much more likely to impact marginalised groups. It isn't quite as simple as opting for big high street brands 'conscious' ranges.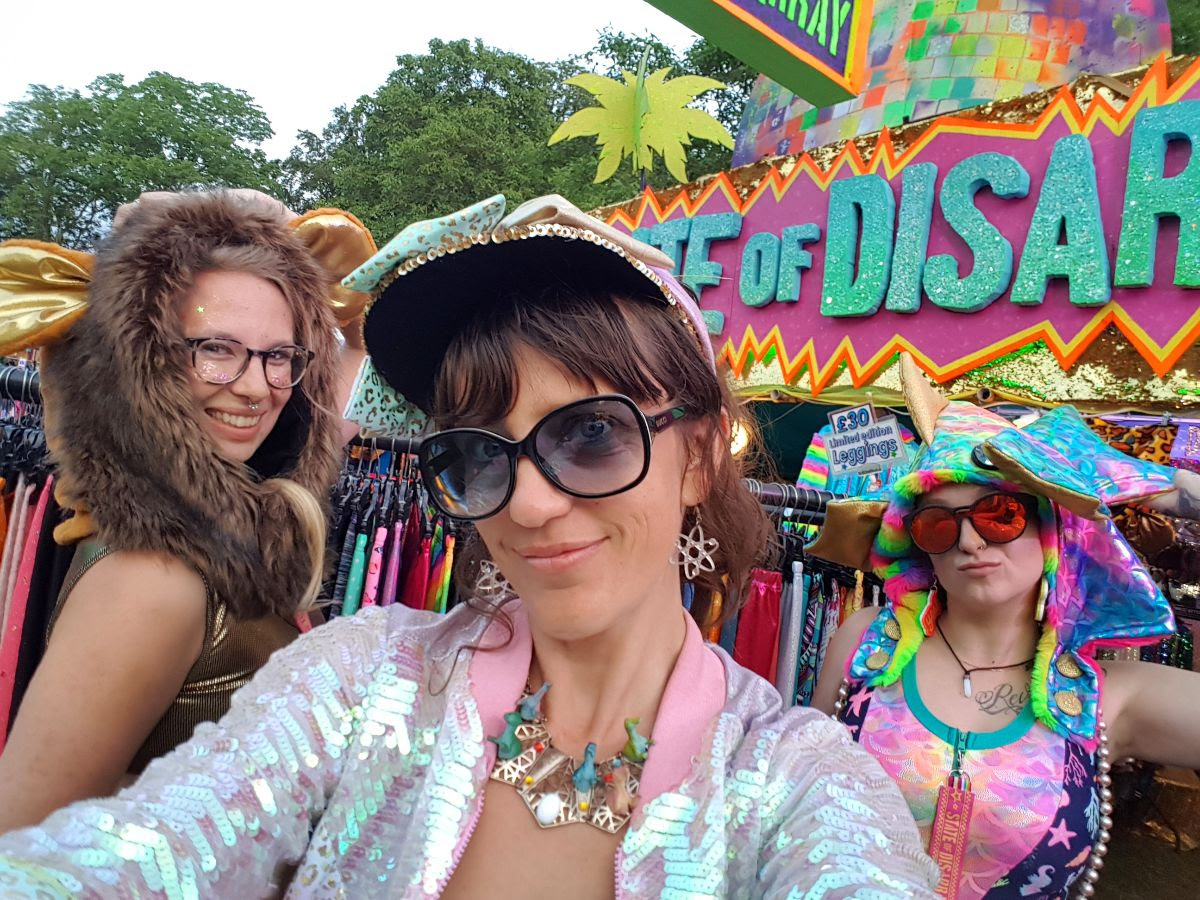 tabitha's tips for revolutionising fashion
We really need to reassess our relationship to fashion. "It's no coincidence that shopping is often referred to as retail therapy. We all know that familiar feeling of excitement that's sparked when we score a pair of new shoes or the buzz that builds when a bargain is bought at 70% off in a sale. It's undeniable, and it really does feel good doesn't it? But have you stopped to consider 'the true cost of your purchase?'."
Fast fashion weaponises this to the planet and people's detriment, feeding runaway consumerism that leaves us feeling a little queasy.
Join the revolution – Ask your favourite brands #Whomademy clothes. Demand action and ask questions. Check out Fashion Revolution's free resources here.
Resist the fast fashion fix – it may seem contradictory for a fashion designer to urge her potential customers to 'buy fewer clothes', but I'm truly invested in reducing my impact on the planet, so I'm not afraid to say 'Stop shopping'. Check out this incredibly comprehensive list with 20 most excellent tips, tricks and resources to help you reassess your relationship with fashion and re-love your existing wardrobe.
Re-invest in your creative community and spread the word – Save up and spend a little more on treasure-forever items. Now more than ever, it's time to take our support one step further and actively help brands which have a smaller online presence. You can do this in just a few minutes by writing a lovely review and posting pictures of your purchase. Shout about small businesses with strong values and lasting products.
Balance the budget by shopping pre-loved as much as possible – I love to invest in statement pieces to support 'slow-fashion' with my fellow independent creatives. For everything else, I keep my costs low and my carbon footprint in-check by sourcing locally, upcycled and pre-loved items from platforms like Face Book Market Place. I have furnished my first home entirely home from second-hand items it's there are some unbelievable goodies out there. I also enjoy the thrill of the chase that comes from finding fabulous car boot bargains or scoring a chazzer shop extravaganza win.
Boycott Boohoo and ASOS – While ASOS does provide a platform for some unique and independent brands it also has an established history of ripping them off by stealing designs and reproducing them in poor quality and at fast fashion prices. Worse still, ASOS only recently stopped stocking brands like Boohoo, Nasty Gal, MissGuided who's modern slavery practices is widely known.
Shop Etsy – the global market place for artisans, independent designers, makers creatives. Here's State of Disarray's Etsy store.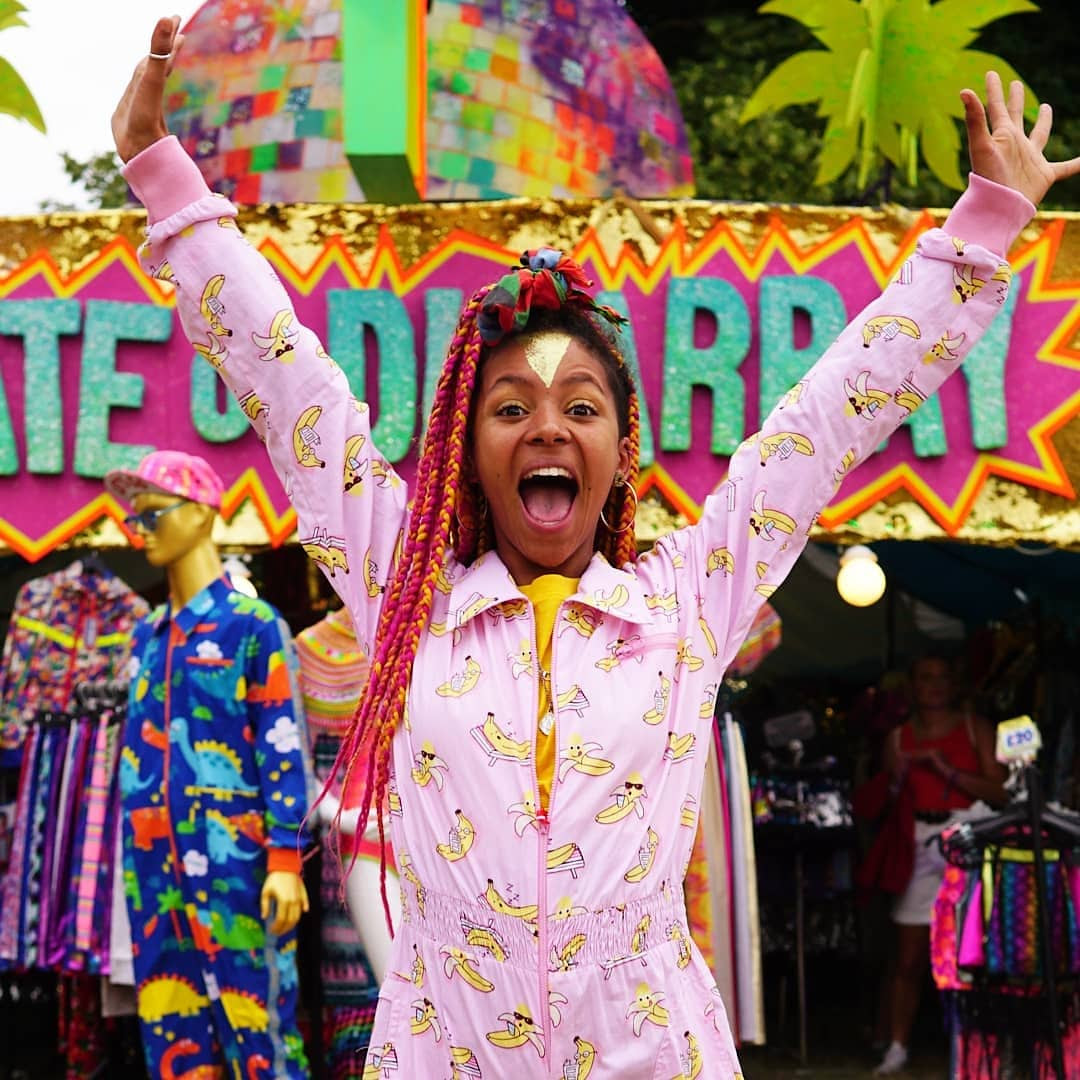 your favourite festival traders need you!
Festival season makes up the most significant portion of State of Disarray's yearly income. COVID cancellations have been devastating to many festival traders, many operating independent, small scale and ethical businesses. If within our means, it's important we support these stalwarts of the festival scene. Check out Festival Bizarre and NOT ON AMAZON– both market places created by festival traders in covidtimes. In solidarity for the absolute stinker of 2020, Tabitha wanted to shout out some of her favourite Shambala traders of old…
Tabitha says: "My top pick… you just have to big-up a brand where garments are hand-stitched or upcycled using second-hand fabrics"
Beautiful head-wear constructed from found objects, stitched and embellished by Isla herself. "She is a true artist and her unique products which are impressively robust and long lasting are indeed wearable art… no mass prodcution or cheap disposable imitations."
As Simon says… "I like to take the unloved and discarded items of society. I add a little bit of love, a load of hard work. And hopefully return something for civilization to cherish again."
"Fashion that empowers freedom." From their Women's Project in Northern India, to their charity donation per purchase, to the wild flower bee bombs packed with each delivery, Forage have Tabitha singing their praises. "So considered, so generous."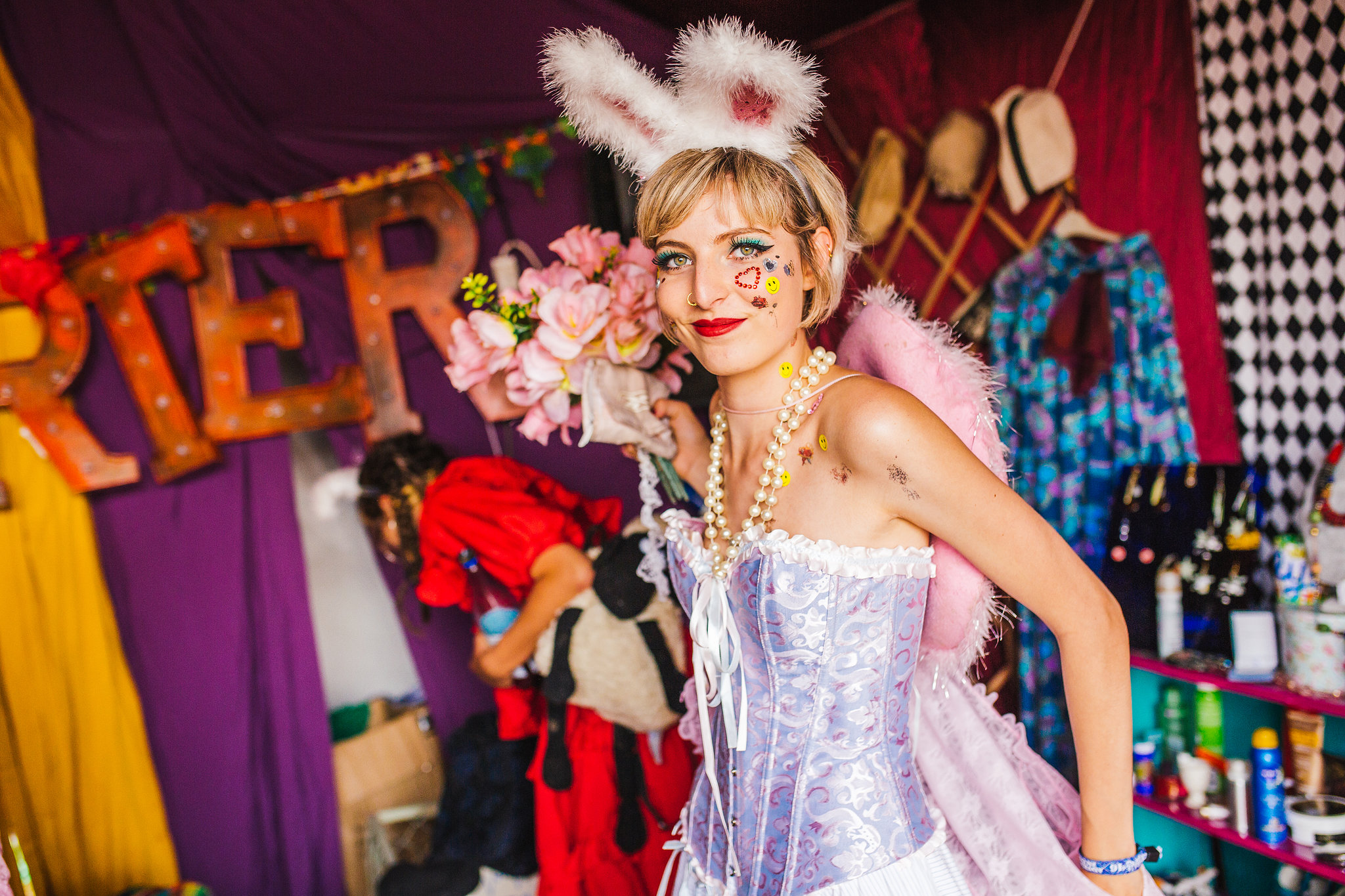 BEYOND THE FIELD
Tabitha says: "I fell in love with this UK brand, which I discovered when searching for ethical swimwear. The products are made in China but the brand is very transparent about the supply chain and commitment to fair trade. Their fabrics are created from recycled plastic bottles and ocean waste and Batoko have committed to some amazing climate positive initiatives too like planting coral reefs and forests." Ocean Sole should also get a mention for cleaning up oceans with their footwear.
"I absolutely love this concept" Wyatt & Jack repurpose bouncy castles and inflatables in about the funnest way to recycle plastic while accessorising.
"Having had a recent overhaul of their productions ethics, FUDD are UK-made streetwear brand using plastic free fabrics, all GOTS certified."
*
Don't forget to use State of Disarray's lifetime Shambala discount code (SHAMFAM10) on their website, inspired by many a loyal customer and dear friends made on our fields.
Remember, what we wear says a lot! Let's start clothing ourselves with care – for people and planet.
Big love x