Ding dong! The Shambala Shop is now open for business once again – and we'll have your purchases with you in time for Christmas. All of our items have been consciously sourced, manufactured from the most sustainable materials and designed to last.
Whatever you choose to buy for your loved ones this Christmas, we implore you to shop independently – Amazon have profited massively already from the pandemic, and Bezos' pockets do not require any more lining, when local shops and makers are fighting for their lives. Shop independent, yo!
Have a peruse of each item below – or just skip the waffle and head straight over to the shop to make your purchases HERE.
It looks like a terrifying ninja throwing star. It isn't. The edges of the actual badge will be slightly yet delightfully rounded for your safety and the safety of those around you.
This lush, limited edition enamel and metal plated pin badge was designed just for you lot by the highly aclaimed artist Victoria Topping and was made in Bristol, like so many of the best things are.
Stick it on your bag, your hat or your lapel, so other Shambalans can give you a nod and a wink when they see you in the wild. (Post-pandemic, please subsitute nod and a wink for high five or cuddle)
*Note: Badges will not be sent out until November 30th*. Order yours HERE for £5 + postage.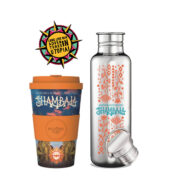 A lush package for the diehard Shambalan in your life (it's totally fine if that's you…)
Bundle 1 (£12 + postage) comes with the enamel badge detailed above, plus Bag this with the 2nd edition 14oz bamboo reusable cup, printed with a classic Shambala lake image. Supplied with a food grade silicone (latex free) lid and sleeve. Buy it here!
Bundle 2 (£22 + postage) comes with all of the above plus our 3rd edition 750ml stainless steel water bottle, featuring a beautiful design created especially for Shambala by mega talented Bristol artist Anna Higgie. Our bottles are supplied by RAW Foundation – a UK Sustainable Development Charity committed to raising awareness and campaigning against pointless plastic. Buy it here!
Both the cups and bottles are also available individually over on the shop page here.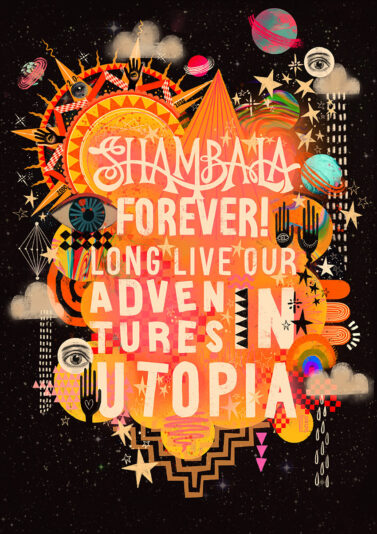 Limited to just 200 A2 editions, this is a chance to bag yourself a stunning piece of art by highly acclaimed British Pop Artist Victoria Topping for £50 + postage.
Scientifically proven to make any room in your house look at least 58% cooler, this is your very, very last chance to bag this rare and iconic print, created especially for our Shambala crowdfunder earlier this year.
This is a carbon neutral produced gloss print using Hydropower and 300gsm FSC paper. Swanky!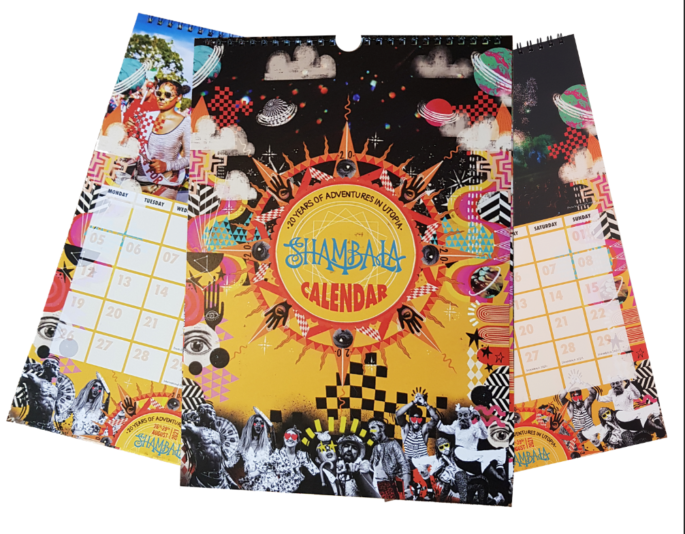 No Shambala 2020 meant no recycling exchange. No recycling exchange meant no goodie bags. No goodie bags meant no calendars! We weren't having that, so we've worked with Victoria Topping to put together a special, very limited edition calendar combining her beautiful artwork, and our beautiful photography.
Slightly bigger than A4, bound with metal wire and printed on FSC paper stock – the calendar runs from January through to December, because that's what calendars do.
Only 150 available and when they're gone, they're gone, so don't hang about. Grab yours here for £10 + postage.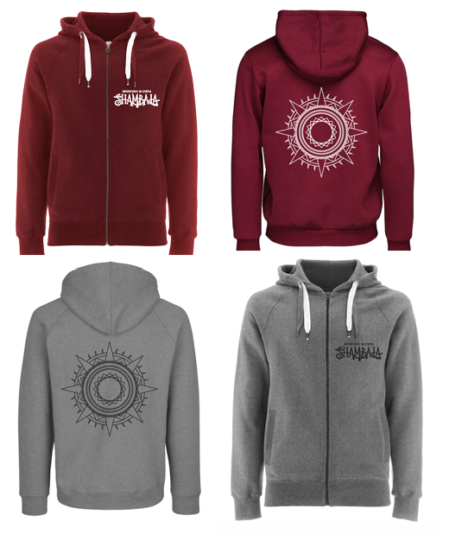 Limited edition unisex hoodies made from quality super soft organic Indian cotton in manufacturing facilities powered by green renewable energy, from low-impact raw materials and printed using vegetable inks. Pow!
These bad boys are the unofficial uniform at Shambala HQ because they are so ridiculously soft that it's like being back in the womb. Highly recommended.
Available in Claret Red or Melange Grey, in sizes S, M, L and XL. We only have a teeny handful of these left so get in there quick to avoid disappointment. Bag one of the last EVER, for £35 + postage, here.
Happy sham-shopping! x