Anyone familiar with the UK festival scene will have stumbled across these makers of mischief in a field somewhere, throwing shapes, causing mayhem and serving up silliness, inside their iconic boxing ring. At Shambala 2016, this motley crew brought brand new venue Madame Bayou's to life, with their own special brand of themed games and nonsense.
The Dance-Off turns ten years old this year, so we caught up with one of their founders, Mike Chatziapostolou (aka Stavros Asbestos) to talk humble beginnings, disco bangers and advice for anyone wanting to try and crack into the travelling venue scene…
How would you describe The Dance-Off to somebody who had never heard of it?
It's a stageshow built on audience participation, silliness and friendly competition. We host dance battles between members of the audience in our chequerboard boxing ring, with the crowd voting for the winner (through the medium of making noise). Everyone is on a level playing field when they get in the ring – often with the silliest, most entertaining people trump the professionals. It's a chance to show off, settle old scores and be generally ridiculous infront of dozens, hundreds, or sometimes even thousands of people!
But we also do an assortment of other participatory shows too. Last year at Shambala, we hosted giant Guess Who – and this year we ran voodoo themed games in Madame Bayous.
How did it all begin?
It all started at The Secret Garden Party. My now-wife Sophie and I first went in 2007 as litter pickers and we heard about their scheme to fund people who have a good idea for a little venue or activity. The following year we pitched the idea of Dance–Off and they said yes!  I assembled a small team of close friends and family to take on the role of DJs, comperes, builders – it was brand new to all of us at the time, so it was a pretty steep learning curve.  In that first year it went down a storm – we dragged in some really big crowds so the festival had us back the next year and the next year, and here we are 10 years later running full blown stage productions across the festival circuit.
How has The Dance-off's offering changed in the 10 years since it began?
The first time we did Dance–Off, our stage was built on wooden pallets and we had a garden gazebo for a DJ booth. Over the course of 10 years we gained the experience and skills to do big stage builds and put on shows for thousands of people.  We've also expanded sideways and do other kinds of participatory shows too – from Giant Guess Who to themed games.
What has been your biggest challenge or set back, and how did you work around it?

The biggest challenge by far was losing Tom (DJ Stashwell), one of our key team members, good friends and brother to myself and co-director Jamie. It was an incredibly tough time for us, but rather than pack it all in, we decided as a team to carry things on in his memory so, I took on the challenge of learning how to DJ and we soldiered on in his memory.  We've also got a swathe of excellent in-house DJs to help fill the huge void left by Tom in the shape of Luke (KB), Dave (Airayd) and Tom (Cowtippa). Those with a keen eye will notice that our stage builds always include a tribute to him somewhere.
What have been your proudest moments in the Dance Off's history?
In that first year we did Dance–Off, we won 'Best Stage Show' at the UK Festival Awards which was pretty amazing!  The following year we won 'Most Memorable Moment' too…
Awards are one thing but we've also had some pretty magical moments over our 10 years. When we first had crowds in the thousands, that was a really humbling experience and probably the proudest moment for me.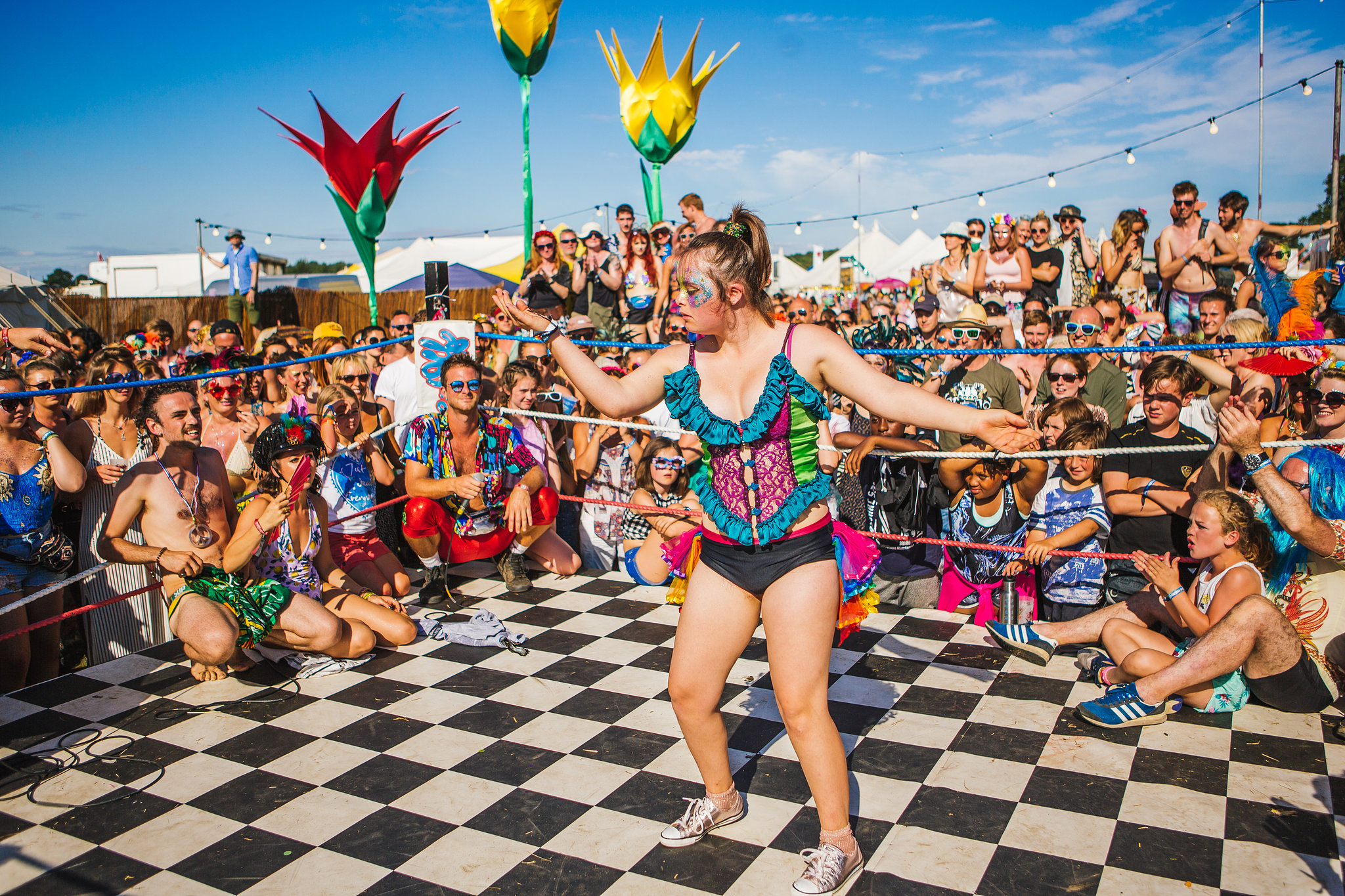 The Dance Off has taken on many themes over the years, from backwoods hillbillies s to robots and soviet astronauts to robots – which has been your favourite?
Definitely hillbillies. It just suits us so well! The accents, the outfits, the moonshine… We are essentially a bunch of British hillbillies so it comes very naturally to us.
Have any particular dancers stayed in your mind, and why?
There are so many! We had this performer from Headhackers who put a nail through his nose and hypodermic needles in his arms. That always sticks in my mind. One of the most poignant ones was a young boy who was in our final one year. His mum didn't know where he'd gone, and found him in our dance–off final busting out Michael Jackson moves. His mum didn't know he could dance. He won and kept the trophy for a few years afterwards – she got in touch to say thank you, as he'd been suffering from depression and it had really helped him. Things like that really make it feel worthwhile!
Our finalists are always amazing – we had a male ballet dancer, some incredible swing dancers and Bouncy Bruce doing flips 20 foot in the air on his spring-loaded stilts.
What advice would you give people looking to set up an immersive, travelling venue?
Think of something that's original – and just start getting on with it, whatever that takes!
We spent the first couple of years hosting dance–off at clubs for fun (and for free!) – not really with an aim in mind, just because we enjoyed it.  To get to the stage we are now has taken a huge amount of hard work and love from the team.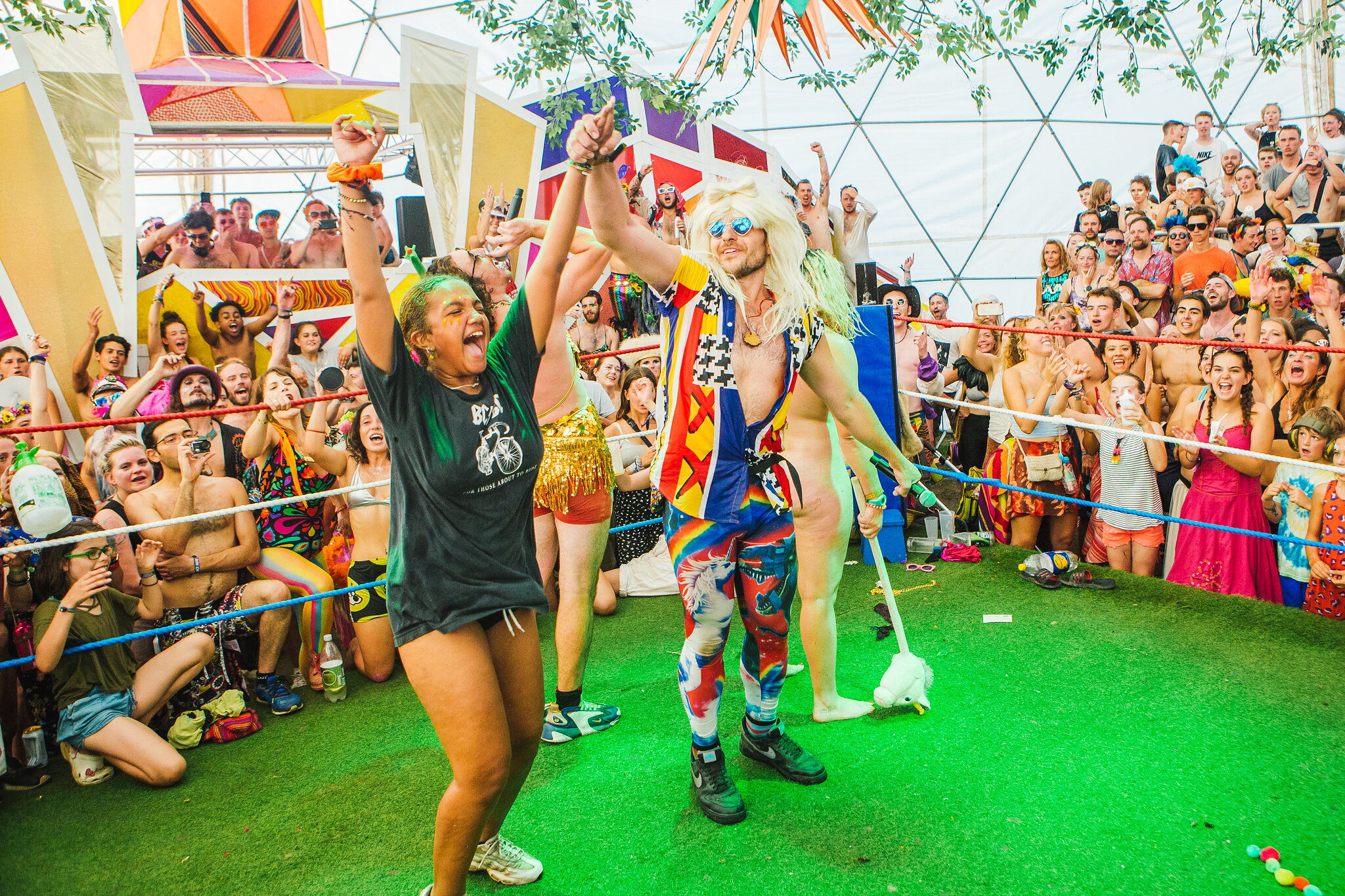 What are your ultimate dance floor fillers?
Disco bangers all the way!  I'm loving the flood of classic disco and funk edits that are surfacing at the moment.  Dave & Luke tend to go a bit harder with their selections and are a joy to watch ping drum and bass around like it's nothing!  As for Cowtippa, his selection is always full of flavour and ranges from the glitchiest glitch-hop, to mid-tempo bass to classic pop and soulful breaks.  Between us we span a lot of moods and genres!
For the killer night ender, it has to be Strawberry Letter 23 by The Brothers Johnson.  It's the ultimate wind-down song for a somberific Sunday night hug-out.
Find out more about these talented loons, and where you can catch them HERE.