As you know, our talented, dedicated Operations Team have not been able to do their usual job this year. Needless to say, they've been chomping at the bit to put their skills to good use – there's only so much banana bread you can make.
Luckily, we've found an amazing way to keep them very busy, whilst doing something incredibly important for the most critically vulnerable in the South West…
FOODSTOCK 2020 – WHAT IS IT, AND WHAT ARE WE DOING?
FoodStock 2020 is a campaign to build a stockpile of emergency food and the infrastructure to deliver it over a difficult winter. Turns out, festival management skills are infinitely transferrable to an operation like this.
As Covid-19 resurges across the nation, Team Shambala are supporting FareShare South West, who are building this stockpile of food and an action plan to deliver it to the most critically vulnerable in the South West.
By February 2021, the FoodStock 2020 operation aims to redistribute food for over 1 million meals.
They intend this food to help bridge the food gap caused by this crisis, acting as the emergency, low-cost food supplier to hundreds of frontline organisations- from food banks to schools to homeless charities.
Team Shambala are on the ground, getting stuck in, working with FareShare to manage warehouse operations, volunteers, goods in, storage, despatch and health and safety.
It's hard work, but really good fun, and we'd love for you beauties to help us out…
YOUR DONATIONS WILL HELP US DELIVER FOOD FOR THE MOST VULNERABLE THIS WINTER.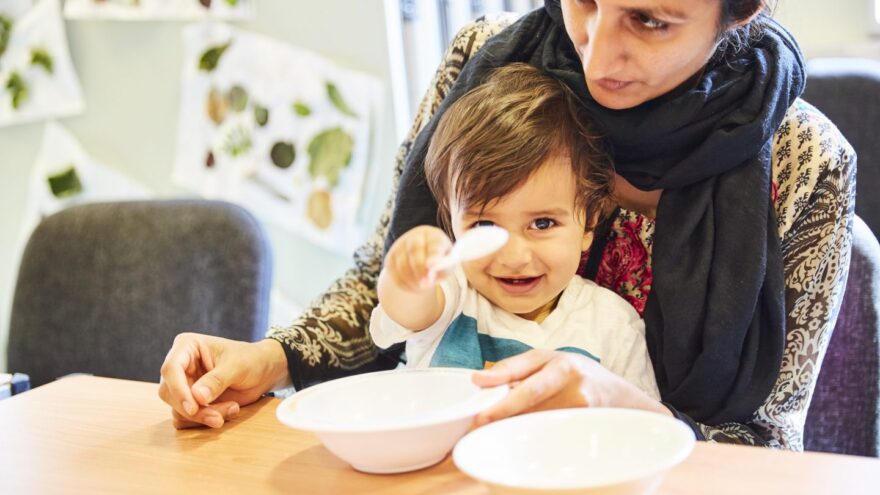 We know times are hard for lots of us, and some folks just may not have the spare income to be able to donate right now. But if you are in a position to support this campaign even in a small way, it would be hugely appreciated.
Your donations will go directly towards covering our costs in getting food to those in need this winter – from van hire and fuel costs, to food sourcing, logistics and food parcel boxes, your donations will make this operation possible. Even the smallest donations make a huge difference:
• £1 covers four hearty meals for somebody in need.
• £5 covers making a full family's food parcel.
• £10 covers 40 meals for a vulnerable person this winter.
• £25 would cover the cost of delivering food for 100 children's meals!
Keep reading to find out about our FoodStock 2020 fundraising virtual Christmas party – you're invited!!
COME WORK WITH US – VOLUNTEERS IN THE BRISTOL AREA NEEDED!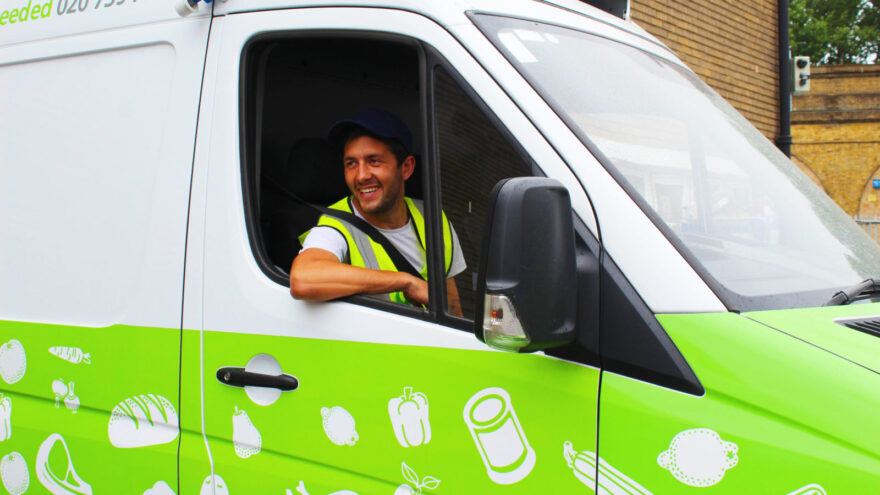 We know a dispropionate amount of Shambalans (both audience and crew!) hail from the South West. If that's you, and you've found yourself with time on your hands, we could really use your help – be it a day a week, a half day a week or just as a one off.
Keep yourself busy, work alongside the always-kind-and-frequently-hilarious Shambala team and get the warm and fuzzy feeling that comes from doing something really, really good. Proper job!
Volunteer roles are based out of Ashton Gate Stadium in Bristol. Please note that the FoodStock 2020 warehouse operates under strict social distancing guidlines, with PPE and food safety measures in place to ensure everybody is kept safe.
We're looking for :
Warehouse volunteers – to pick and pack food parcels in the warehouse
Drivers – Over 21 with a clean driving license and recent van driving experience. You must also be physically able to help load and unload goods from the van.
Driver's Mates – physically able to help load and unload goods from the van.
We have a particular need for volunteers between Christmas and February – though if you're available sooner, please do register – we currently have a full volunteer team in place up until Christmas – but things being what they are, we'd like to have some back up, should a team member fall poorly or need to self isolate.
WE'RE HAVING A FOODSTOCK 2020 CHRISTMAS PARTY AND YOU'RE INVITED!
We're very excited to be waving goodbye to 2020 and feel it's time for proper good Christmas knees up. On FRIDAY 18TH DECEMBER, from 8-10pm, Jimi Needles will be hosting a banger of a Shambala FoodStock 2020 Christmas Party: Remixed 
Shambala Festival and The Social Club Saturday night resident of 10 years Jimi Needles brings you all your favourite (or least favourite) Christmas bangers but with a Hip Hop and Big Beat twist. Expect a cut-n-paste DJ set filled with xmas classics remixed, pop culture references and mind boggling turntable manoeuvres!
Tune in over on the Shambala Facebook page, our YouTube channel, or over on AiDU.TV.
Head over to the event page and hit that ATTENDING button to make sure you don't miss out on any updates.
Throughout the evening, there'll be heaps of opportunities to donate to FoodStock 2020, between throwing serious shapes and downing a festival tipple or twelve. Come get festive with us!
SENDING HEAPS OF LOVE TO EACH & EVERY ONE OF YOU..
Keep those collective chins up – we'll be dancing together in the Enchanted Woods before you know it. Big love!
Team Shambala x