After the very sad cancellation of Shambala, it's time for some more positive news 💕
We've been hard at work behind the scenes, with the talented folks at BOMA, turning the official Shambala app from an on-site festival app, into a year round tool for the full Shambala community (from artists to audience, crew and everybody in between) to stay in touch and share our projects, creativity and upcoming events (virtual and 'real world') with each other.
All you have to do is search SHAMBALA on your app store and look out for our logo 👀 If you've still got last years' app on your phone, you'll need to update it.
WHAT'S NEW
All our news stories and podcast episodes are now on the app, and we'll keep it up to date with all the latest news and sounds from Shambala HQ – but we've also got two brand new, interactive features…
THE COMMUNITY EVENTS NOTICEBOARD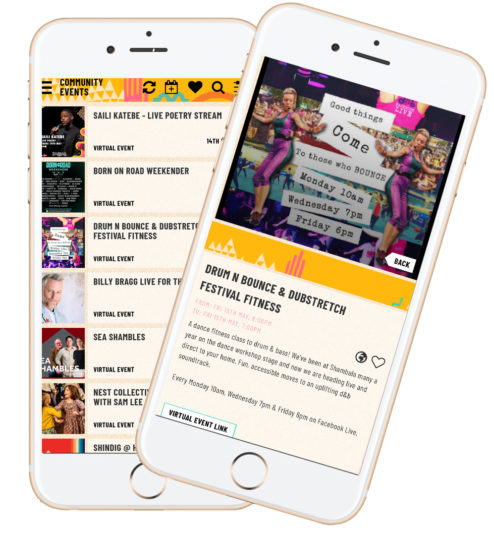 Whilst real-world events are off limits for the next few months at least, we know a lot of you are involved in all manner of amazing, online happenings – from musical livestreams to dance workshops and yoga classes. The way our creative community has adapted to working in a virtual space is inspiring and we want to give it a platform!
We're inviting YOU to add your upcoming events (or your mates events, or amazing events you've stumbled across) to this community calendar, where the Shambala community can find 'em and get involved.
To get started,open the COMMUNITY EVENTS section of the app, give your event a name, date and start time, add an image and description and the URL of where your virtual event takes place (or a real world location, if it's far enough in the future that it might actually happen…!)
HERE is some more info on the what, why, how.
THE PEOPLE'S GALLERY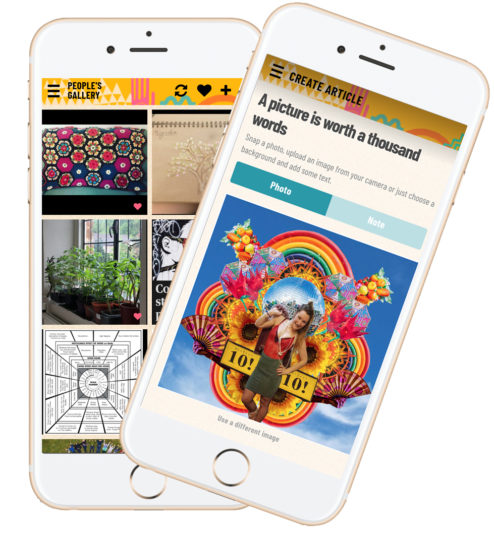 A crowd sourced, community gallery where you can share your creations with the community – be it a painting, a photo, a poem, an homemade costume or some thoughtful musings.
It's super simple to use, you can use an image saved on your phone, upload some text or snap a photo inside the app and select the  tag that best describes what you've made. You can also add a link that our audience can click, to find out more about your work.
Artists – upload your creations! Traders – upload the amazing stuff you make and sell, with a link to buy! Poets – upload your words! Chefs – upload your recipes! Show the world what a talented bunch you are.
Just browsing? Check out all the artwork, use the tags to filter by category and  just enjoy all the creative bits and bobs other people have submitted. Don't forget to hit the 'heart' on your favourite pieces, so the artists responsible feel the love.
MODERATION & GUIDING PRINCIPLES
Once you've submitted something to either the People's Gallery of the Community Events board through the app, it comes through to us at Shambala HQ, to check over and ensure it doesn't violate our terms of use, and then publish – so you won't see it published immediately – but will get a notification of publication as soon as we have checked and okayed it. If it doesn't get approved, it might mean it's not appropriate to share with our audience. We want this to be an inclusive and supportive space, based on positivity – you will not see harmful or hateful content here.
Please keep the following "guiding principles" in mind when submitting to the app:
Is it Shambala? It's hard to sum up but Shambala is a special place, is it right for our community?
Is it yours to share? You can share other people's work but please be honest and respectful to creators crediting the work of others where necessary.
Is it inclusive? It should go without saying, but everything submitted should aim to be inclusive for all regardless of age, race, gender, sexual orientation, spirituality or physical ability. Events specifically should aim to connect folks from all sections of society and should show dedication to ensuring they are as accessible as possible.
Will it be seen as positive and do social good? We're looking for beautiful creative out-pouring's and are likely to prioritise posts that strengthen local communities, support cohesion and good causes ahead of purely commercial interest.
Is there an environmental benefit? We welcome events listings that will help fight climate change, take (non-violent) action, and leave no trace.
Is it a safe space? Events submitted should be open, public, group gatherings.
Everyone should feel (and be) safe at all times and free from unwanted or uninvited advance (physical or verbal). They should be run within requisite parameters of local law and health and safety regulations.
Are you being transparent? The intentions and content of your submissions should be clearly defined, honest and communicated transparently to the community.
We hope you have a lot of fun with this!
Love, Team Shambala x