Having provided us with the soundtrack of our 2019 video, we sent over Wiyaala and Kweku Sackey (aka K.O.G) some questions. The result is a joyful insight into their creative process, brimming with jostling energy as they rush to finish each others sentences. Wiyaala and Kweku really mean it when they say "we're the same… it's like telepathy almost."
Despite being a "Northern girl" (Wiyaala hails from Wa East Ghana) and a "Southern boy" (Kweku, from Accra), their shared mission is to share the diverse offerings of Ghanaian culture underpinned with a truly global-facing philosophy. As Kweku puts it: "we have the same connection and the same understanding of our culture, which is what we seek to bring to this side of the world." Both speak about the ways travelling, cross-cultural exchange and seeking out transnational underground scenes informs how, and why, they create music. They are "cooking soup" in a massive melting pot of regional languages, national experiences and Diasporic borrowing.
Kweku and Wiyaala epitomise a Pan African movement that pulls on incredibly rich heritages of West Africa, Afro-Futurist ideas and genres from across the globe to re-present a version of Africa that is wildly diverse, complex and creative. The momentum Kweku and Wiyaala are gaining internationally is a "light the the end of the tunnel," where they are busting wide open media representations of Africa as a barren place with "some child…with flies over their mouth." As Wiyaala puts it, "the world is seeing something totally new, something they didn't know about Africa."
"It's all about positive energy." Positivity, for them, can cut through negative difference, through some of the weight of colonial oppression and move us towards something celebratory and something shared. "On stage, we are just human beings. We are people. We meet other people. It doesn't matter their colour, we are all speaking one language and that is music."
Towards the end of Part II we asked Wiyaala and Kweku to give us the scoop of the best artists coming out of Ghana (their mantra: "the best comes from the West!"). From Wiyaala's North Ghana, King Ayisoba came highly recommended. Ayisoba delivered some blistering magic at Barrio Afrika and on Shambala Stage back in 2018.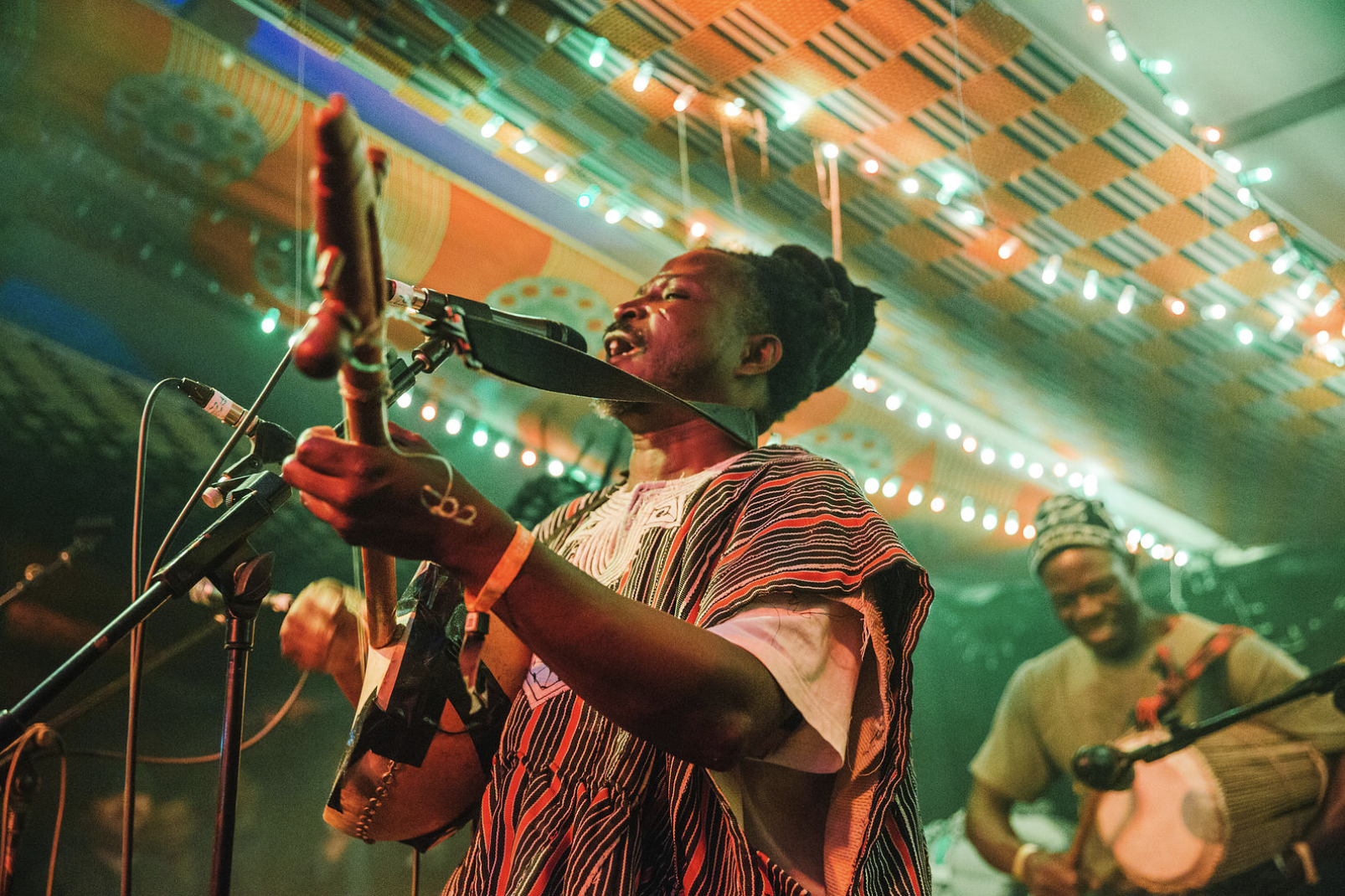 Atongo Zimba – A celebrated griot musician, Atongo Zimba upholds the oral traditions of Ghana, playing koliko in ways inspired by Afrobeat and Highlife as much a traditional modes. Travelling West Africa to collect sounds, Atongo Zimba made a pilgrimage to Fela Kuti's club in Lagos. He remained the for two years as an opening act at Kuti's The Shrine, the inspiration behind Shambala's Barrio Afrika.
Nana Yaa – With Highlife in her blood (Pat Thomas is her dad), Nana Yaa makes highly listenable fusions, big on pop sensibilities.
Kyekyeku and GhanalogueHighlife – 9 strong outfit serving warm, deep grooves, drawing on Ghanian folk, jazz traditions and a tidy sum of funk.
Both also listed off the likes of Atimbila, Fra! and Sherifa Gunu. Delve into all their recommendations via this playlist: featuring tunes from Santrofi, Taarza Tailor, Burning Faya, Pobee Mwintombo and Fonk Bois too.