Pre-orders for the Shambala programme are live! This year it's a very special 150 page anniversary book with more exclusive content than ever (yet somehow magically still compact enough to carry around).
We will, as usual, be offering our free line up phone app closer to the event, but for those of you who appreciate a weekend away from a screen, can't be doing with keeping your phone charged, or just want a souvenir to celebrate 20 years of Shambala, here's a taster of some of the exclusive content you can only find in the programme…
Your weirdest and funniest Shambala memories to poems and stories of love found and lost during your Adventures In Utopia
Top tips on the things you absolutely can NOT miss on site..!
Mouth watering recipes from our food traders
The official, carnival costume hall of fame, spotlighting the all time GREATEST creations from over the years
A trip down memory lane to where it all began – heaps of nostalgic oddities, questionable 1990s hairstyles, the absolute abomination that was our first ever site map, vintage photography and all that good stuff..
Games, activities and silliness
HEAPS MORE GOOD STUFF!
Pre-orders will close on 8th August, after which we will post them out to their new owners. There will be some programmes available to purchase on site whilst stocks last, but if you definitely want to get your mitts on one, we'd highly recommend pre-ordering!
PRE-ORDER YOUR PROGRAMMES HERE
PLEASE NOTE: Our T-shirts and hoodies will not be available to buy on site, the only way to get your hands on them is to pre-order. T-shirts will not appear in the festival packs you get at the recycling exchange this year – the packs will include calendars and other goodies instead, but again, if you want a t-shirt, you do need to pre-order.
We've got beautiful new unisex shirts in a range of lush colours, featuring a 20th anniversary design by this years' artist in residence, Victoria Topping.Victoria's signature style draws influence from everything from high camp disco sleeves to exotic flora and fauna to traditional folk art.
These shirts are100% organic combed cotton, PETA approved Vegan and climate neutral.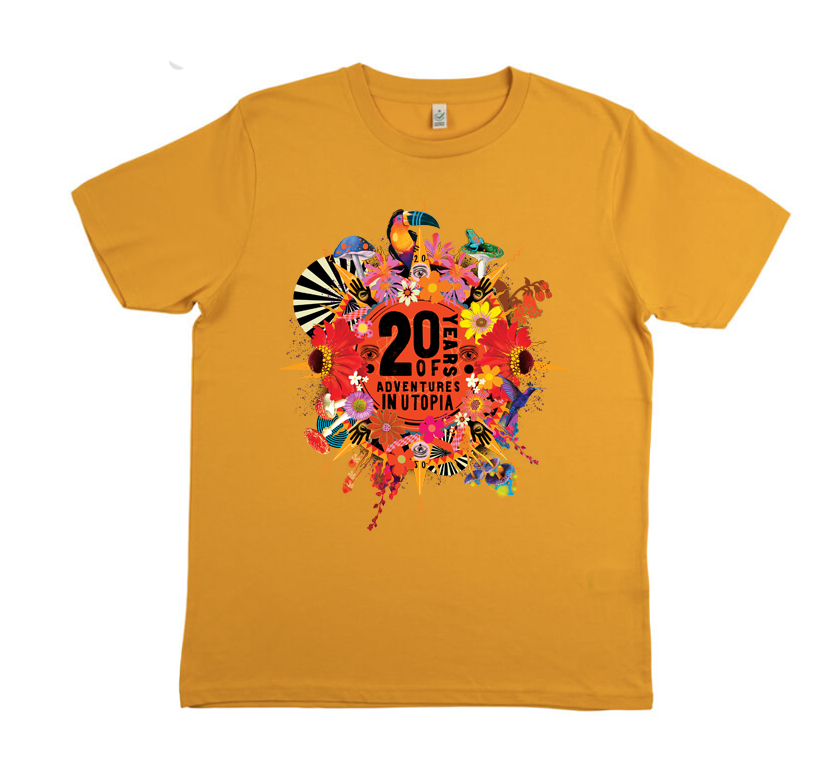 Pre-order yours HERE before 22nd July. Once pre-orders shut we'll get all the shirts printed to order in one go, and then send 'em out to you ahead of the festival.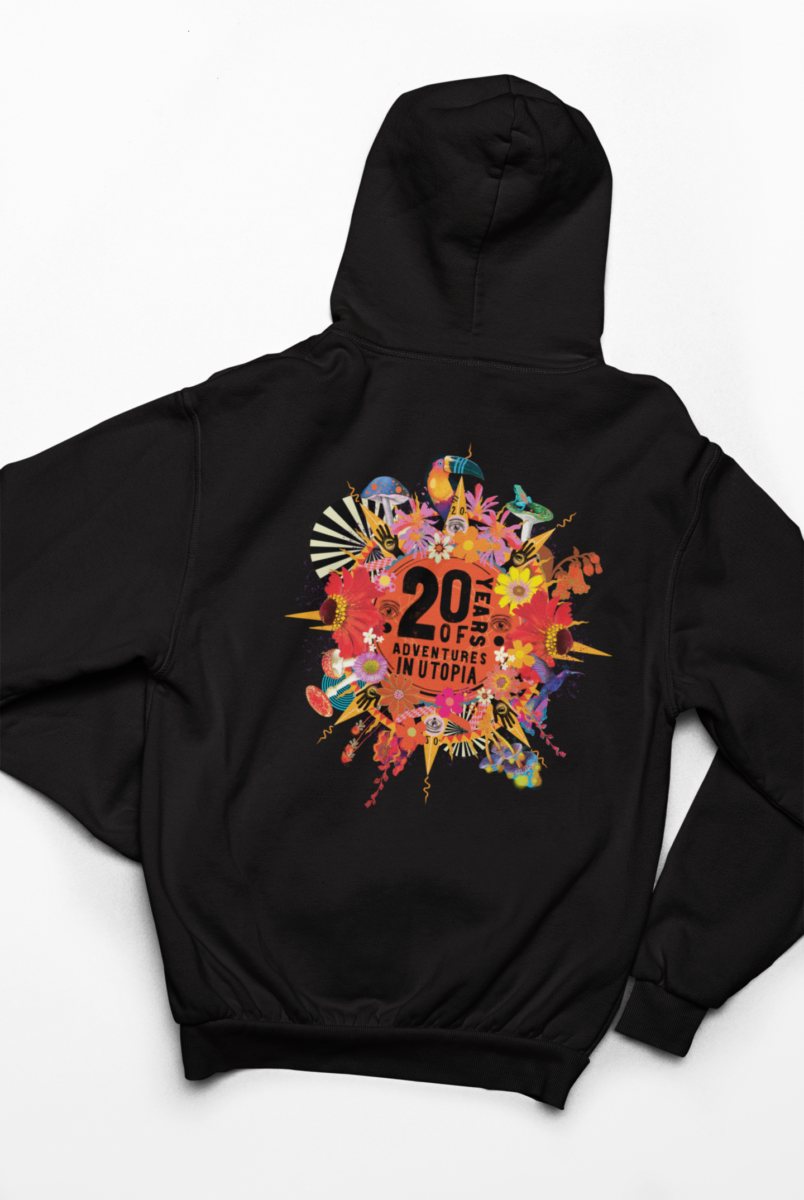 Those Shambala nights can get pretty nippy – stay cosy in a zip up grey or black hoodie featuring Victoria's design on the back, and the Shambala logo on the left of the chest.
These hoodies are all unisex and 'Earth Positive' – meaning they're made of 100% organic combed cotton, PETA approved Vegan and climate neutral.
Pre-order HERE before 22nd July.
Once pre-orders shut, we'll get all the hoodies manufactured one go (it's a zero waste thing) and send them out to you ahead of the festival.
Brand new for 2022 – treat yourself to a 10z Shambala camping mug, in sunshine yellow, featuring the Shambala logo and our classic sundial design (dreamed up by Bea of Pyrite Creative).
Made from a heavy steel coated with a glossy enamel layer, these little fellas are super durable and perfect for the great outdoors.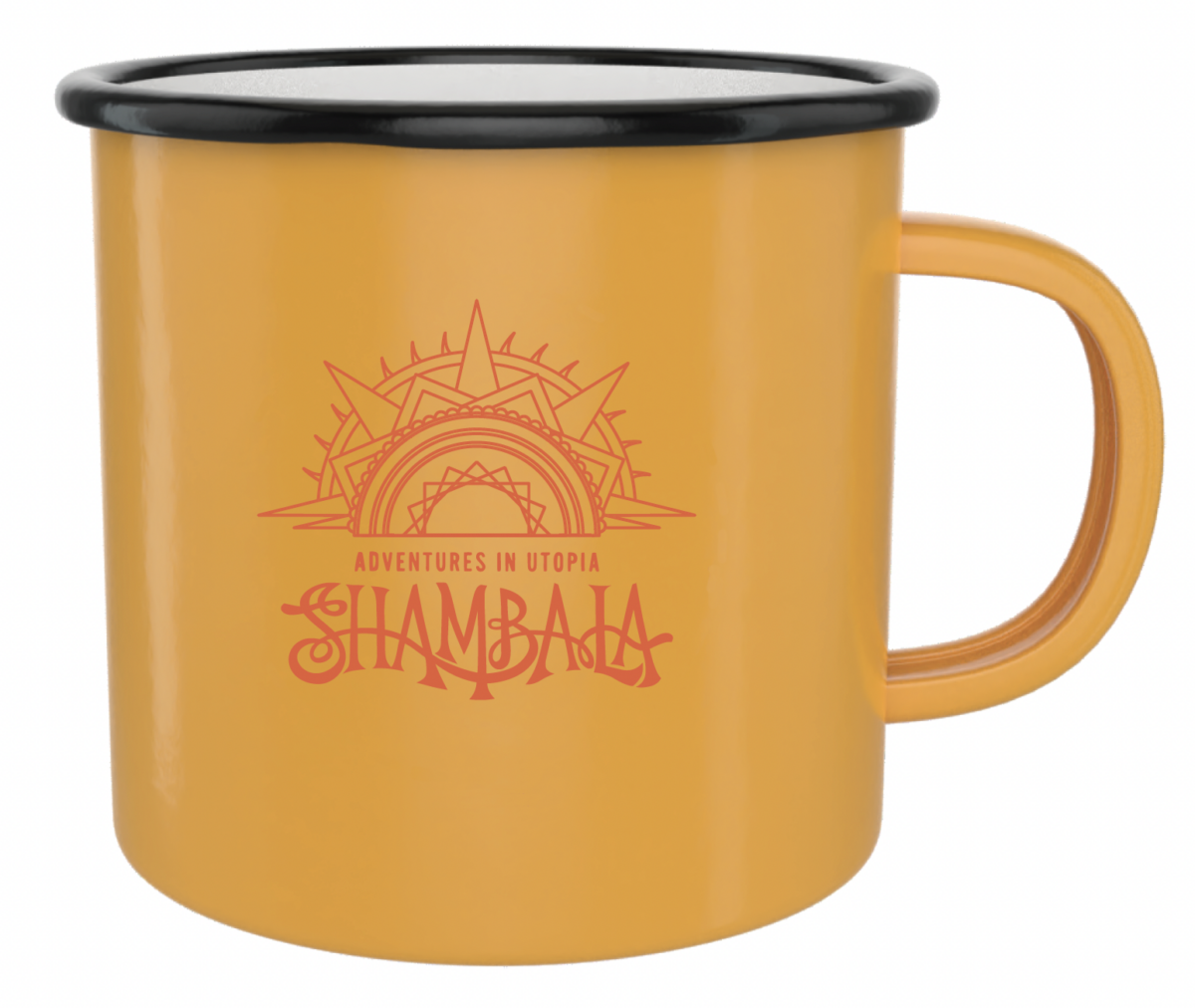 This year, there will be no disposable, cardboard coffee cups available on site for your hot drinks (they may look all earthy and recyclable but they aren't, due to a sneaky polymer lining. Not at Shambala, folks!).
Instead, we're asking you to bring along your own reusable mugs (no glass or ceramics please, too many bare feet on site for that!). We'll be providing wash points for your mugs around the site.
Order your mugs HERE!
This beaut holds 750ml and comes with a stainless steel metal crew lid and handle so you can attach it to a belt, bag or bumbag.
Featuring the classic Shambala logo, designed by the incredibly talented Tim Watkins, many, many moons ago, but in a fresh new sunshine yellow and orange colour way. (Fun fact – Tim is the creative director, illustrator, animator and designer behind cartoon-pop behemoth, Gorillaz).
We don't sell any single use plastic bottles at Shambala, so please remember to bring your own refillable one with you.
Order your bottles HERE.