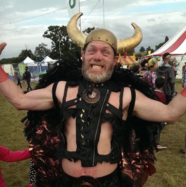 Unlike many events, we believe that everyone should be allowed to bring personal drinks into Shambala.  We do, though, also rely on the bars to keep Shambala viable.  Our bars are run with strongly held principals before profit margins, so please do support our bars and sample the scrumptious delights on offer!
We run our bars in partnership with our friends at Refresh West – a relationship that began back in the murky mists of time (also known as the nineties) when Joby (Refresh West founder) was causing mischief at UWE with one of our founders.
Refresh West have been responsible for all things booze at Shambala for fifteen years now. We've inspired each other, grown together and share the same values around quality, sustainability and sourcing. Together we pioneered the reusable bar cup scheme over a decade ago – which has now been adopted by hundreds of events and venues across the country.
More impressively, we have also had zero single use plastics across all our bars for several years now – no mean feat, but it isn't just about plastic straws! This is achieved in part by using 'Think Drinks' soft dispense on all our in-house bars, and supplying canned soft drinks to venue bars  to avoid single use plastic bottles.
Sticking to your principles doesn't come cheap, and by choosing to use the products, suppliers and systems outlined below does mean putting our values before profit– but we feel it's 100% worth it to be able to serve you an amazing array of local, ethical and delicious independent drinks, and stick two fingers up to crappy, corporate flat lager!
Check out what was on offer for Shambala 2019. The back bar and keg line is subject to change, but our commitment to this offering being delicious, ethical and eco won't.
SOFT DRINKS AT SHAMBALA
Refresh West use 'Think Drinks' – a UK based company making premium quality soft drinks sourced from the most ethical suppliers they can find– a million miles away from your big American soft drinks brands.
It's really important to us that no Nestle/Coca Cola products are sold on site – instead, Refresh West stock Green Cola. More on that here.
BEER
We pride ourselves on having a wide range of independent, ethically sourced and delicious beers and ciders.
The majority of beer stocked at Shambala comes from Purity Brewing. Purity are not only one the most sustainable breweries in the UK, they're also based only 55 miles from Shambala's site – meaning travel miles are significantly reduced (and, equally importantly, their beer is proper tasty.)
We stock Freedom Brewery's organic lager. Like Purity, Freedom have very impressive sustainability credentials, and are located just 65 miles from site. Our Freedom lagers are sent delivered to site on the same wagons as our Purity stock, to save mileage and carbon emissions.
The rest of the beer comes from local breweries all within 20 miles of the event site – meaning we're supporting local business and minimising transport carbon.
CIDER
Our main cider supplier (Hogan's Cider) not only made the world best cider (!) but are also located within 60 miles of site and do lots of amazing work supporting charities both here in the UK and in Nepal.
Our second main Cider supplier (The Cider Box) offset the carbon from their transport by volunteering for The Orchard Projects – a charity that plants apple trees and rescues ancient orchards. They donate a days work for every 1,000 miles that their products travel. More on that HERE.  
The Orchard Project champion community orchards and support communities to bring their benefits into towns and cities –  improving wellbeing and helping nature to thrive. They are committed to reviving the UK's rich history of urban orchards as a means to reconnect people to their food sources.
To further reduce the carbon footprint of our bars operation, our ciders are dropped off at the Purity brewery and travel to site from there, on the same trucks as our beer.
WINE
Our wine supplier (Sustainable Wine Solutions from Borough Wines) is the ultimate sustainable service provider for the wine trade.
They are the only U.K. wine supplier working with reusable kegs and reusable cork sealed bottles. They work with sustainably minded suppliers with many vegan, organic and biodynamic wines, filling our bottles and kegs here in the U.K. to greatly reduce their carbon footprint without scrimping on quality.
VEGGIE & VEGAN CREDENTIALS
All of our soft drinks, wines, spirits and ciders are vegan.
The majority of our ales and lagers are vegan friendly. The menu boards at all our bars will clearly label which beers are not vegan, so you can booze with confidence.
As if all that wasn't enough, Refresh West also offset their travel and transport through Ecolibrium and source all their energy through Ecotricity. They also give a lot of support Aid Box Community – a charity Joby founded, which supports refugees in Bristol and around the word – as well as supporting other homeless charities in Bristol! Legends!
Massive props to the Refresh West team for all that they do – here's to another 15 years. x