Every year, our Sustainability Team work alongside our crew of inspiring traders to ensure that our stringent sustainability standards are met, and then some.
During the weekend our team score each trader against a hefty list: including, energy efficiency; ethical food procurement; waste reduction and travel miles; as well as finding out about any extra environmental or social initiatives traders themselves have.
Our annual Inspirational Trader Awards is where we celebrate the traders that went above and beyond the call of duty
This year we wanted to spotlight the traders who have made changes towards a more regenerative food culture, as well as those who have taken us up on innovations that empower traders to monitor their impacts themselves. So for 2019, we're also rewarding the trader with the biggest power reduction onsite between 2018 and 2019, and the trader with the best low impact dish.
INSPIRATIONAL TRADER of 2019…ÜBER TUBER!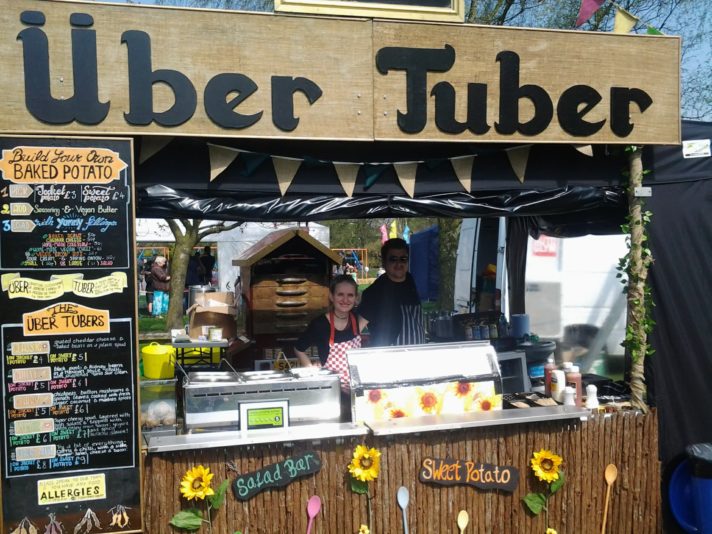 Purveyors of the humble spud, Über Tuber take the top spot for 2019 for their no-stone-left-unturned approach to providing sustainable sustenance. Serving international flavours in a jacket, everything on their menu can be made vegan, gluten free and is 100% nut free – so everyone can partake in their potatoes.
They are a small family business in their third year of serving home-made comfort food that doesn't break the bank but properly fills you up. Our judges were impressed by their determination to operate as efficiently and sustainably as possible, cleverly reducing food waste, power and water use through their innovative menu. ALL of their dishes qualified as One Planet Plates, accounting for less that 0.5kg CO2e per dish. Combined with their commitment to source all vegetables locally, this made Über Tuber super low impact.
What's more all their staff travel together in one vehicle to all events, and they carbon offset their festival season travel. The team also hope to cut out disposable serve-ware completely, and aim to plant a tree for every meal served! Massive well done to the whole Über Tuber team.
SUSTAINABLE TRADER AWARD… BURGER THEORY!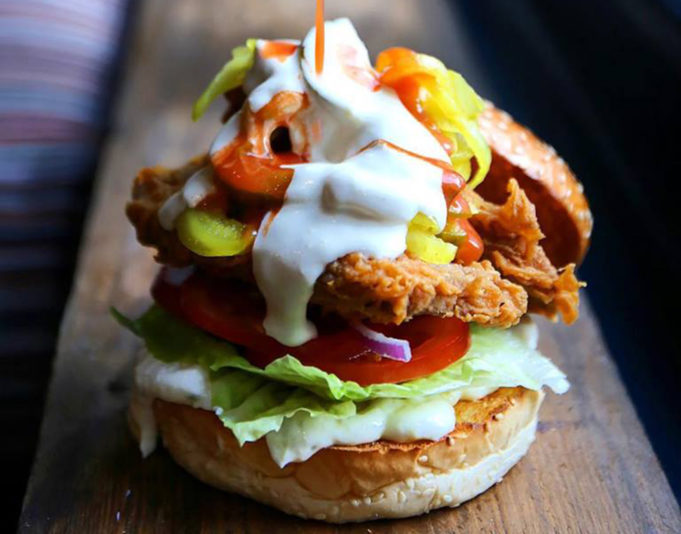 At Shambala, we're serious about power. Our site runs on 100% renewables, and we're always looking for ways to increase efficiency in order to reduce the impact of our Adventures in Utopia. This has meant monitoring the energy usage of our food traders, via meter. The idea is that traders can then make decisions to streamline what they are using, and make some cost savings too. Burger Theory have done a whopping job at reducing their power usage. Their reduction of 122.3kWhs between 2018 and 2019 has earned them our Sustainable Trader Award.
This scheme has seen the average power use of a trader fall by 7kwH per trader. This may sound small, but it's the equivalent of every stall powering a smart phone for 7 years or running 10 x 100watt lightbulbs for 7 hours. So big congratulations and thanks to you all. It all has an impact!
THE PEOPLE'S CHOICE AWARD… HAPPY MAKI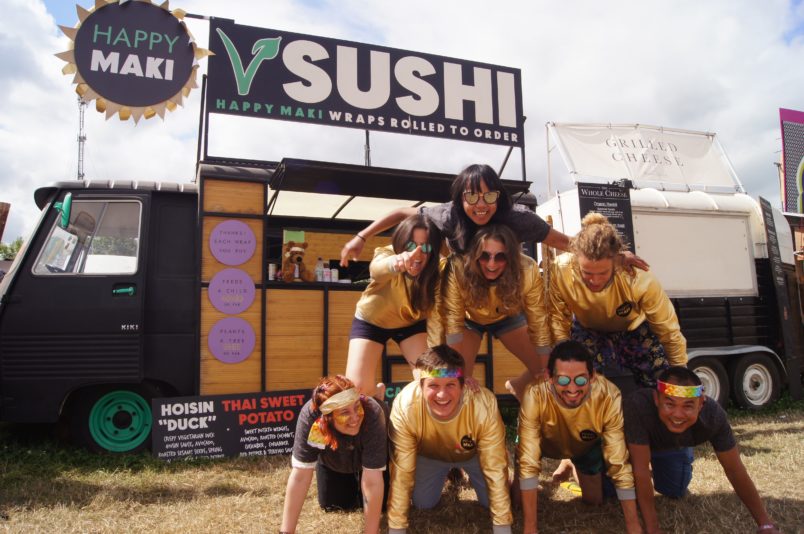 Voted number one trader by Shambalans in 2019's Big Debate, Happy Maki served up fresh sushi with a difference! These sushirritos pack in delicious fusion fillings that are totally plant-based. Founder Anna, set out to create delicious fish-free sushi after learning more about the precarious state of our ocean ecosystems. Partnered with Mary's Meal and Eden Reforestation Projects, Happy Maki operates on a one feeds two policy, donating 15p of each wrap towards feeding children and planting trees – truly feel good sushi. Happy Maki also base their staffing on how local folks are to the festival to reduce travel impact. A worthy People's choice!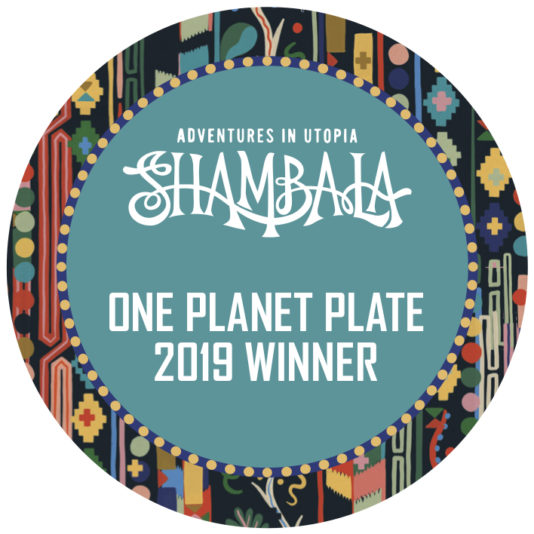 One Planet Plate Award
One Planet Plates are a step towards accounting for the 'true cost' of a meal – factoring in growth, shipping and processing of ingredients. A One Planet Plate is a meal that is responsible for under 0.5kg Carbon dioxide equivalent (C02e). When you consider that the UK dish average factors in at around 2.5kg per meal, a One Planet Plate is seriously low impact.
Firstly, big up to all the amazing traders that took on the additional challenge of creating a One Planet Plate. Signing up to use the Carbon Cloud calculator, the following traders showed us all what a dish of >0.5kg CO2e could look like:
Deli Posh Dog, with their "Guac Dog"
Churrioso with their "Hermano Churros"
Wrappers Delight with the "Veggie Champion Wrap"
Chai Shop Organic with their "Falafel Pita"
La Bonne Crepe with the "From the Field" Crepe
PB&J Society with their "Proper PB&J"
Pod Café wither their "Pod Nachoes"
Uber Tuber with the "Pink Slaw Spud"
Stealing the show, however, was Happy Maki with a double win! Their Thai Sweet Potato sushi roll was voted by Shambalans as the best One Planet Plate, based on how got your mouths watering and your eyes poppin'.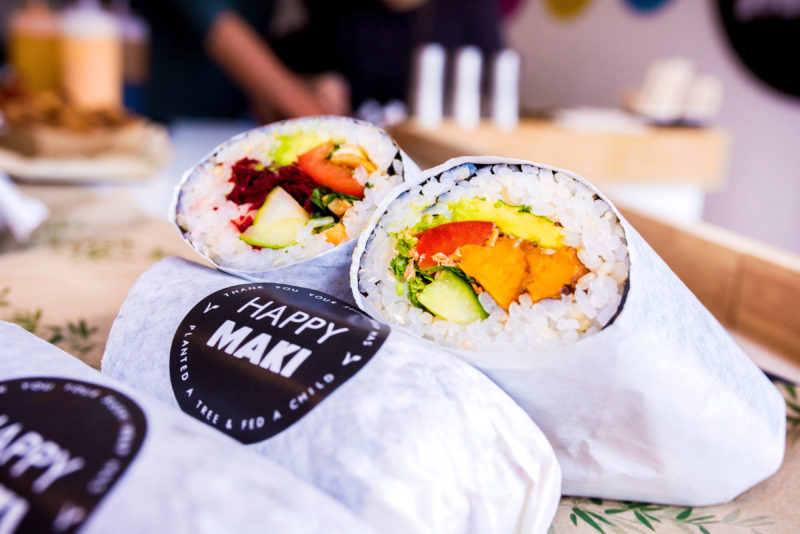 Again, thank you to ALL of our traders for your hard graft in providing the delicious fuel that keeps our audience dancing.
Big love,
The Shambala Team x