SOUND THE APP KLAXON! The official Shambala 2019 app is now ready to download! Find it on Android and Apple by searching SHAMBALA in the app store and looking for our logo (don't get caught out and end up downloading the Canadian ShambHala festival version!).
The app is built to work offline, though we'd highly recommend downloading it on wifi before you arrive, as signal on site can be rather patchy!
ABOUT THE APP
We weren't happy with the existing 'off the shelf' festival apps available – which claimed to be free to use, until you dig a bit deeper and discover that you're paying in audience data. With that in mind, we decided to make our own, with an awesome team of developers. The free Shambala app (now in it's third year) is built on the concept of total anonymity and data privacy.
The App contains full line up information and allows you to create your own schedule – even reminding you 15 minutes before your favourite acts begin. It also has map functions as well as heaps of handy information including menus for our traders and bars. It's notification functionality means we can send you all real time messages, to let you know of any changes to the line up or exciting happenings.
This year, the app also has some brand new functionality that we're incredibly excited about…
INTRODUCING: OUR COMMUNITY EVENTS LISTINGS!
We've been dreaming up new ways that we can use the Shambala Festival App year round, to enable our community to come together and do good outside of Shambala. This is where our new Community Events Listing function comes in.
You're ALL invited to help us build a year-round, crowd sourced calendar of amazing happenings that Shambalans can get involved in – whether it's a project that needs volunteer support, a cause that needs activists, arts and music events that need an audience, skills to share, community rambles or guerrilla gardening.
HOW TO ADD EVENTS..
Download the app!
Once you get to the festival site, the 'community token' icon on your app will start pulsing away like a happy little jellyfish. Click it, and you'll have generated a private and unique community token; a badge of identity, that cryptographically proves you were on site at Shambala 2019. An anonymous community participant in time, space and place!
Your token can only be validated on site, and is what will enable you to post events in the Community Events Listings.
Adding events is designed to be intuitive, quick and simple. When you click on the 'add event calendar' icon, there are a few required fields to populate (name of the event, location, date and start time)
You can also add an image, but beyond that there is just a free text box and the rest is up to you! The text box gives you the opportunity to fully explain the event, why you are supporting it and how it relates to the Shambala community. You can add external links to give people more info!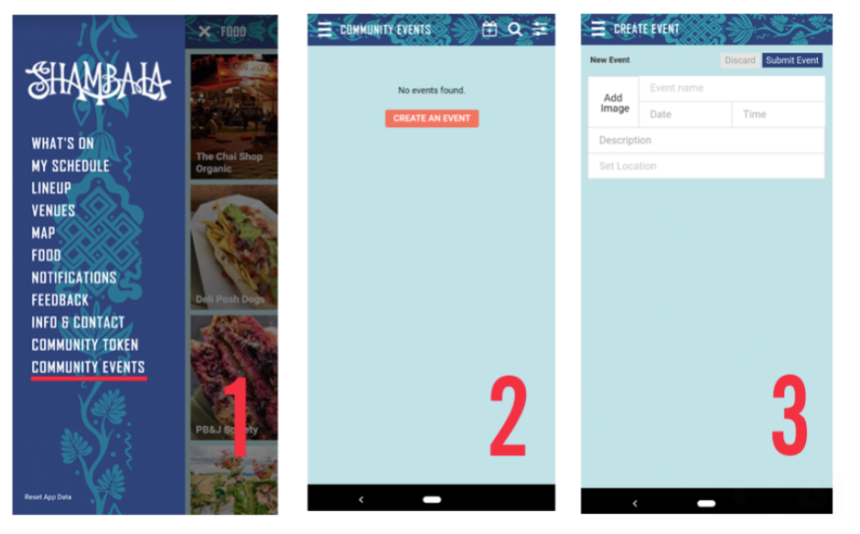 In this early experimental stage, all events submitted will be sent to be approved by the team here at Shambala HQ, before appearing on the listings calendar. With this in mind, it may take some time for an event you submit to appear, depending on how many submissions we receive. We're looking at how best to decentralise the management of event submissions after this initial experimental phase gets under way…
Should the event you uploaded not appear at all, it may be for a number of reasons linked to the purpose and principles set out below.
Through the Community Event Listings we are hoping to provide visibility for worthwhile events and causes. Whilst you are welcome to share paid-for, ticketed events, our priority is to support community linked events that promote sharing, community and collectivisation, rather than create a commercially driven marketing platform.
WANT TO DIG DEEPER INTO HOW THIS WORKS AND WHY WE'RE DOING IT?
There's heaps more information here, dive on in!
Happy 'Appin!
Team Shambala x