YES Shambalans! Festival season has kicked off, summer is in the air, and we reckon it's high time we let you know exactly who will be providing the soundtrack to this years' Adventures in Utopia!
Peep the 3 line up posters below, sorted in A-Z, by stage – or delve into the full line up by venue, right here.
From Congo Natty to Say She She, L'Entourloop to The Go! Team, Grove to Fabio & Grooverider, and Chali 2na to Dutty Moonshine Big Band, 2023 is set to be a blinder.
As ever, we've also got a heap of emerging new talent (did you know we were recently named the best small festival for booking new artists?! 👀) so we've also put together a stupidly massive playlist, so you can't start planning your must-sees and getting to know your new favourite acts – you can wrap your ears round that, here.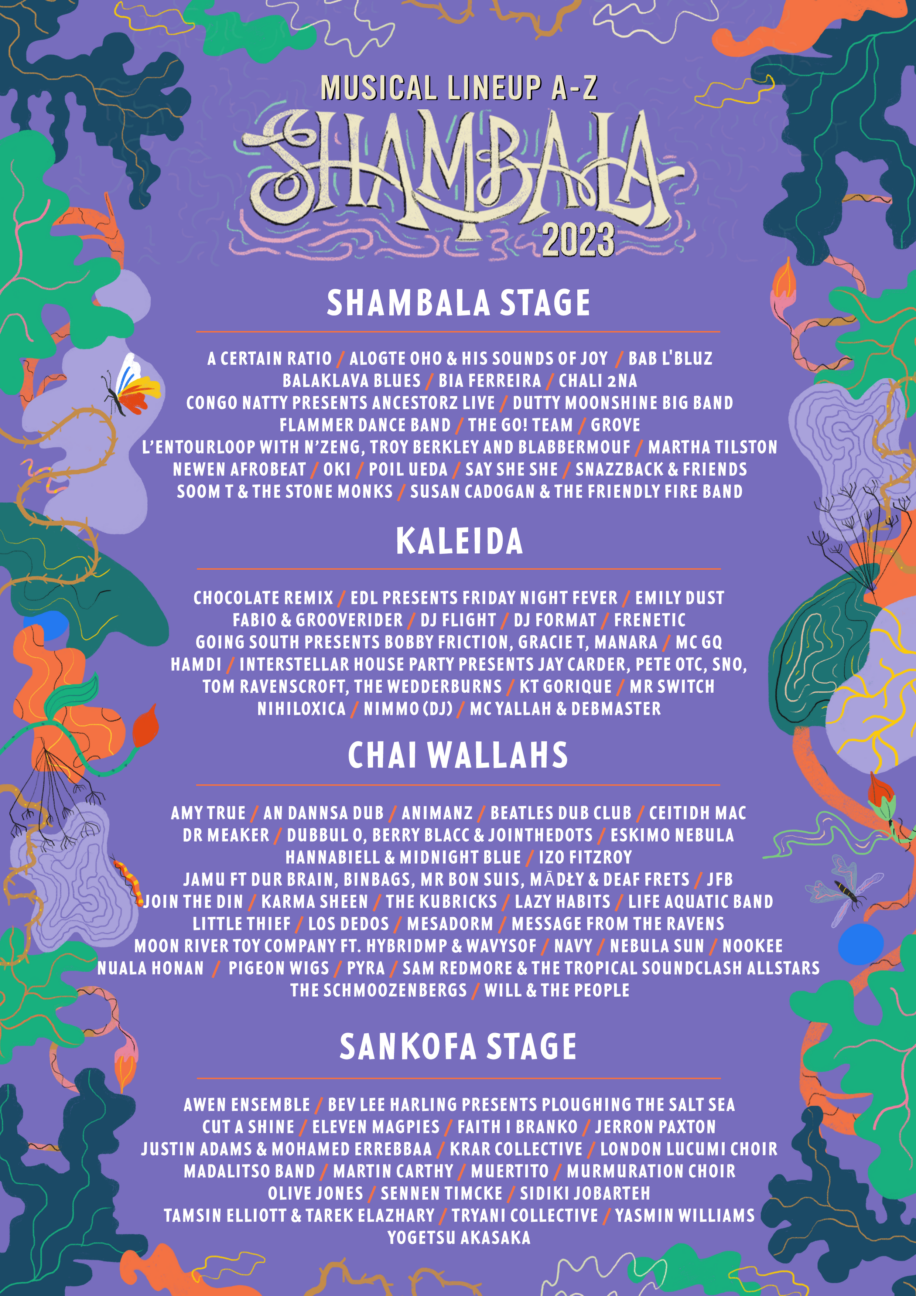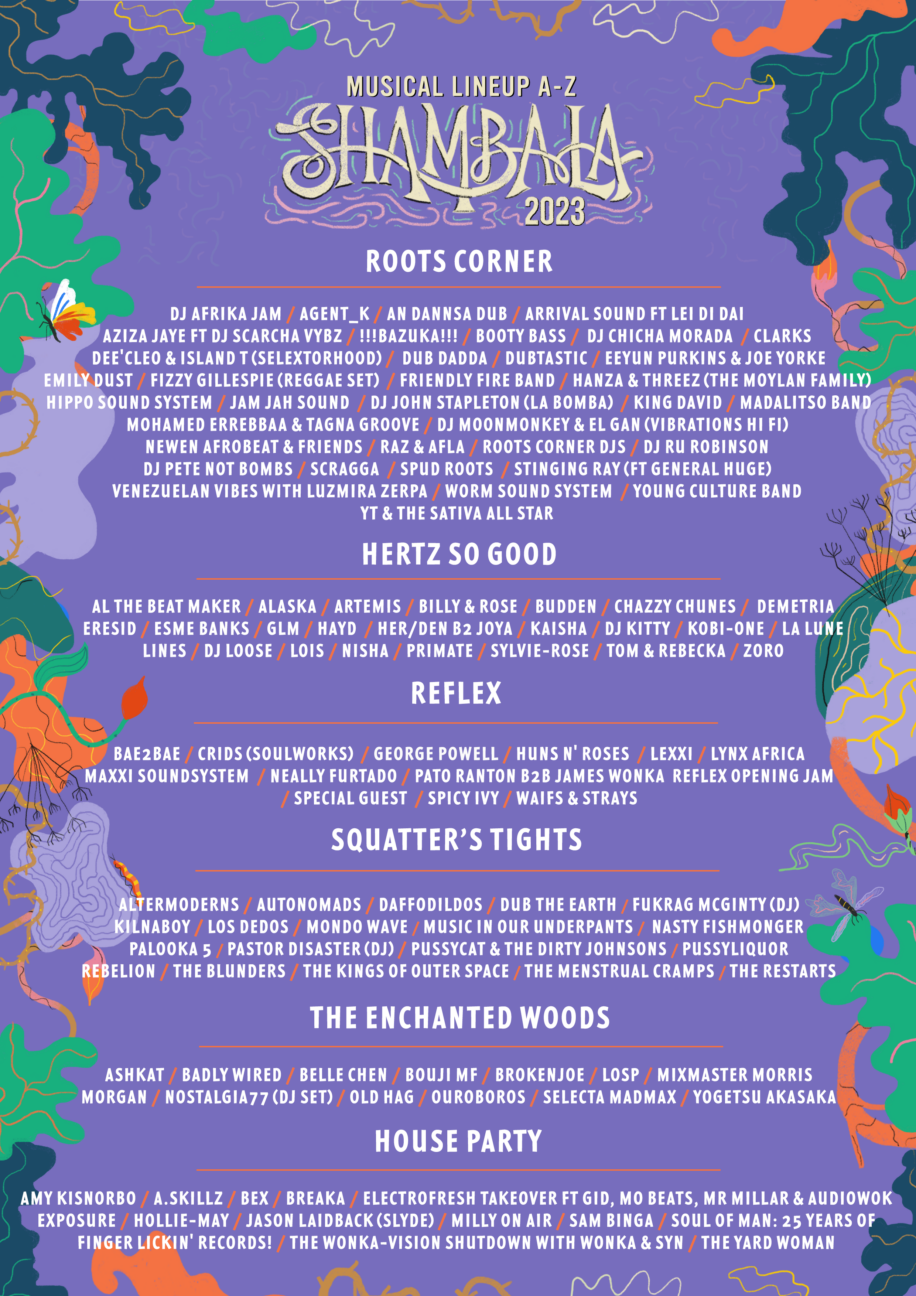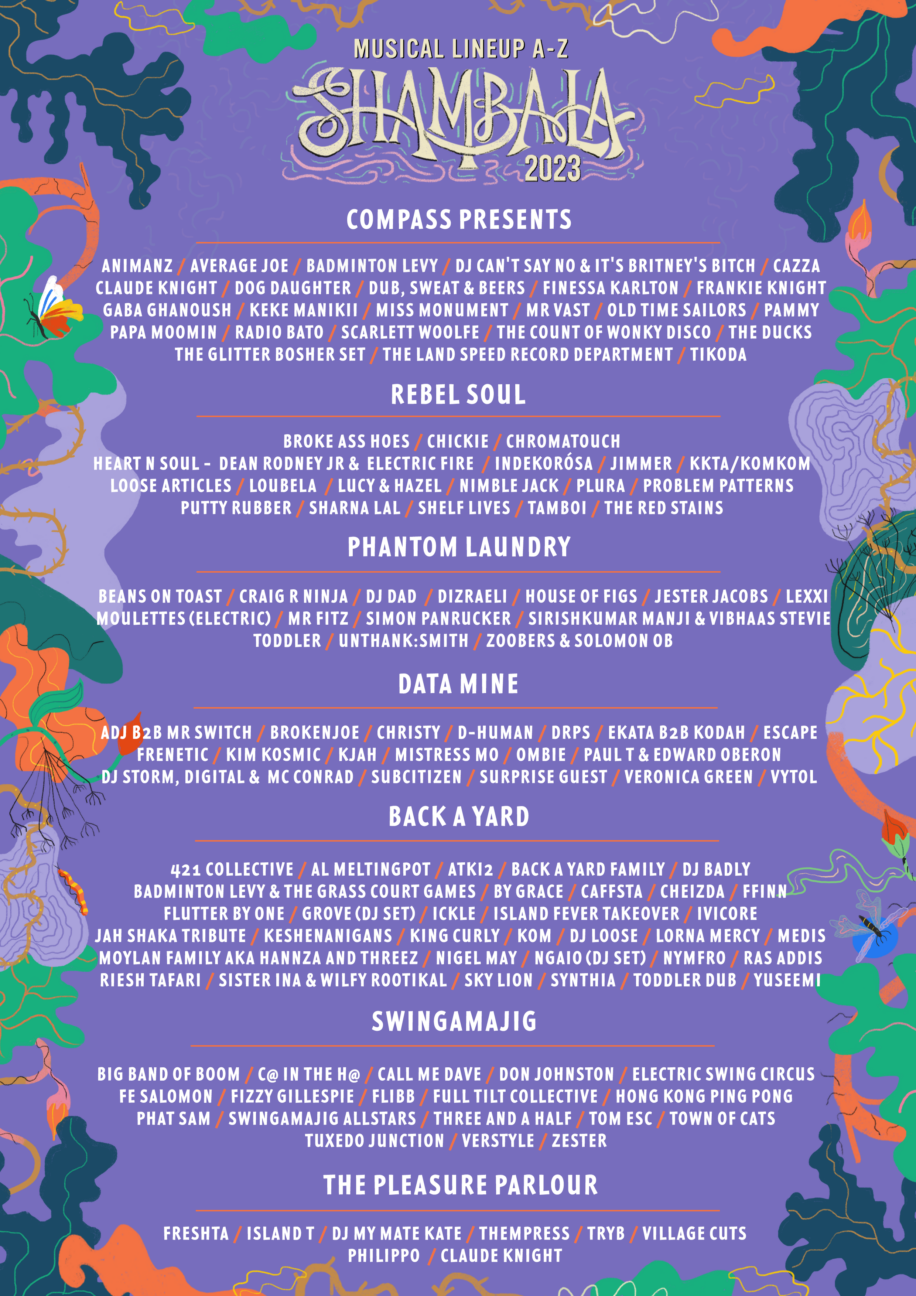 FROM POETRY TO PUPPETRY – OUR NON-MUSICAL LINE UP IS ALSO NOW LIVE!
As any Shambala stalwart will tell you, music is only one little piece of the puzzle.
Shambala is all about participation – whether you're thrusting your way to enlightenment with Power Ballad Yoga, running round the Enchanted Woods trying to defeat our evil lizard overlords, belting our the bangers in our 90s Rave Choir or competing to be crowned Shambolympic champions.
We've also got heart-in-your-mouth circus performances, world class poetry, ridiculous puppetry, interactive art installations and dozens of opportunities to learn, talk and debate. Dig into it all, by activity tag, right here.
DON'T FORGET TO PRE-ORDER YOUR SOUVENIR PROGRAMME, IF YOU WANT IT POSTED OUT TO YOU AHEAD OF THE FESTIVAL!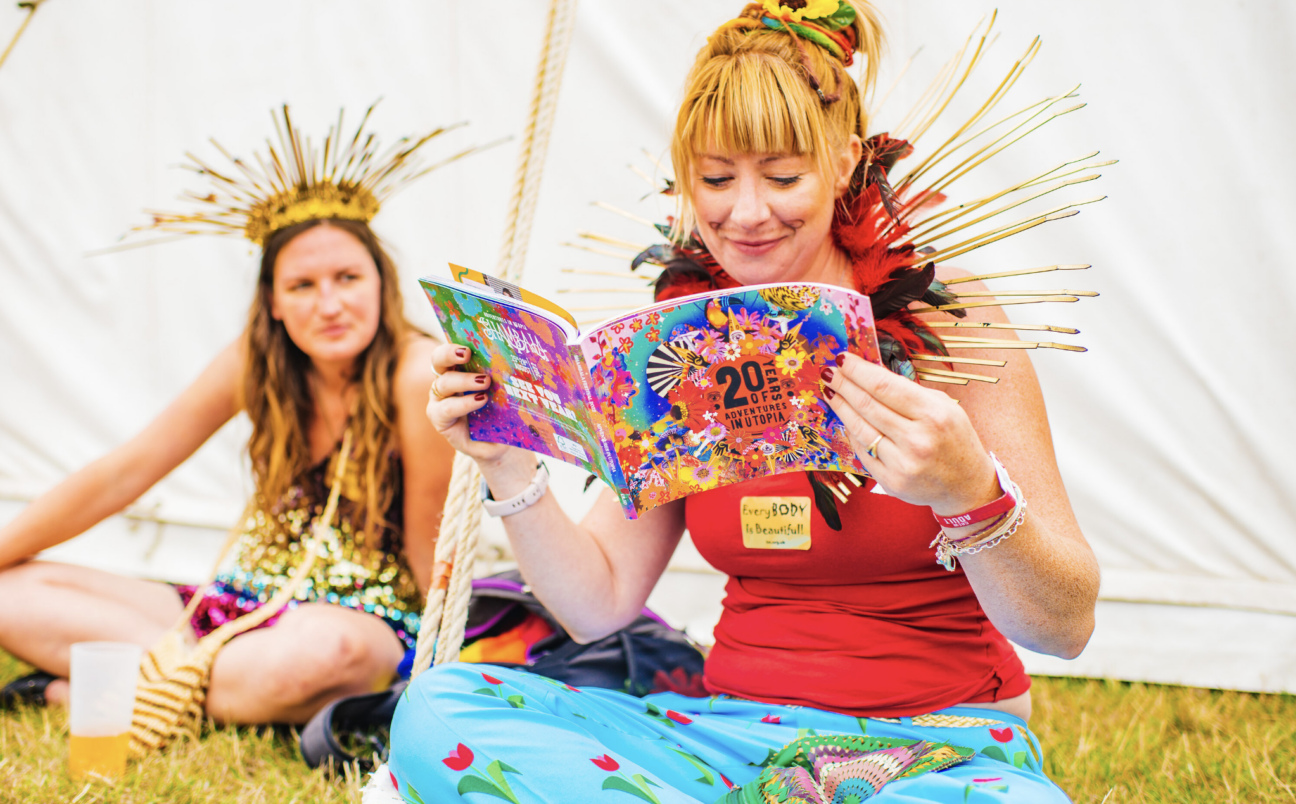 Don't forget to pre-order your printed programmes, if you want it posted out to you in early August, ahead of the festival, in time for you to get planning!
As usual, we'll also be offering our Shambala phone app (which will be released/updated closer to the event) with the act listings and timetable – but if you're the sort who like your festivals to be a break from your mobile phone, or don't want to faff about keeping your phone charged (or just like a beautiful souvenir for your bookshelf!) the printed programme is for you!
These books are packed with listings so you know exactly what's on where, as well as heaps of exlusive programme-only content, from recipes to top tips, behind the scenes sneak peeks, musings from our organisers and all manner of extra gubbins and silliness.
We're printing less of these than usual, so if you're keen, we recommend pre-ordering! We'll be selling what's left, on site, once we've posted the pre-orders out, whilst stocks last. Likewise, if you don't want the paper programme to disappear altogether in future years, do make sure you buy one this year, otherwise we may need to retire 'em and go app-only.
To order yours, head to our ticket page, here – and scroll down to the Merchandise section at the bottom of the page.
IF THIS LINE UP HAS YOU RARING TO GO, BUT YOU'VE NOT BAGGED YOUR TICKETS YET…
Whilst general entry tickets flew out many moons back, we've still got a handful of entry tickets left for those of you who are able to come by coach, from Birmingham, Bristol, London, Manchester or Sheffield. If you don't live in any of those cities but want to join us, double check you wouldn't be passing through one of them on the way there anyway! Book one of the last Shambala Express Coach Packages here.
Likewise, if any of you fancy a pedal powered challenge, and would be up for heading to Shambala as part of a Red Fox Cyclist Tour from Birmingham, Bristol or London, we have our last few Cyclist Entry Tickets available. Book yourself a Red Fox Cyclist ticket here.
Both these ticket types are priced £20 cheaper than general entry, as a thank you for choosing to ditch your cars and travel sustainably 🙏
You know the drill by now, but remember, you MUST turn up by the specified mode of transport on your ticket, for your ticket to be valid for entry.
See ya in a few months, you absolute loves!
Team Shambala x