Exact start locations and stop off points below may be subject to change.
HOW IT WORKS
The first thing to note is that although, regardless of ticket type, anyone can join the rides by buying a Red Fox guided ride ticket, but if you buy a Cyclist adult entry ticket with a £30 discount you must also buy a guided cycle ride. Get your tickets HERE.
If you book a discounted Cyclist Adult festival ticket at any tier, but don't arrive at the festival on a Red Fox guided ride – your ticket is not valid for entry.
All routes have been tried and tested – they are scenic, safe and frequently off road. Riders will be accompanied by a support van which will carry everything that you don't want to!
Although all tickets are to be bought on the Shambala ticket page please note that these tours are provided by an independent third party Red Fox. Please see their website for more information and full terms & conditions, and direct any questions to richard@redfoxcycling.co.uk.
More info on all Red Fox's packages can be found here.
OVERNIGHT STOPS
The folks at Red Fox Cycling have handpicked campsites for our riders to lay their weary heads, on route. The cost of your tent pitch is included in your package. You can either bring your own tent along in the support van, put it up and take it down yourself, or (for the London and Bristol rides only) for an extra fee, Red Fox team can sort you a 'comfy upgrade' where they will pre-pitch one of their tents for you with an air-mat and travel pillow.
ARRIVAL ON SITE
All rides are set to arrive at Shambala on Thursday, early evening. You'll get a free programme when you arrive and secure bike storage.
THE BRISTOL RIDE
Cycling to Shambala felt like a modern day pilgrimage! The exhilaration, as our team of 50 cyclists wheeled down the hill towards Shambala's big tops on the distant horizon, was incredible!

Beth M
In 2023, 55 cyclists took on the 130 mile journey from Bristol. Heralded as one of Red Fox's "prettiest rides so far," this route takes you through the gorgeous Cotswolds right to Shambala's gates.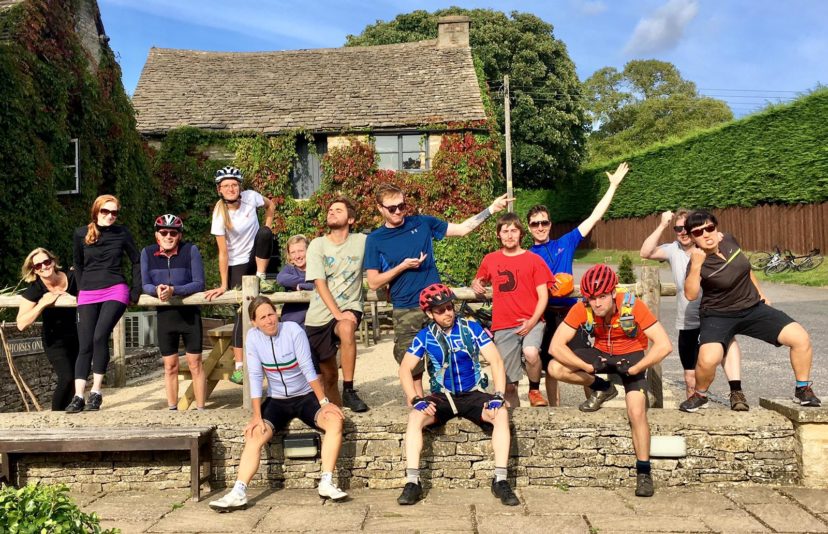 OTHER IMPORTANT INFORMATION
GETTING HOME
Don't worry, nobody expects you to cycle back from the festival too! You've already proved that you are absolute warriors, so for gods sake put your feet up! If you've got pals at the festival with room in their vehicle for your bike, feel free to jump in with them, but Red Fox will also be offering a return journey in a coach, back to Bristol Temple Meads – your trusty bikes will be transferred back in the support van at the same time. Just make sure you select the Return Journey option when booking your tickets, if you would like a lift back.
MEALS
The Red Fox team have your breakfast and lunch covered – you'll either be booked in for pub lunches/meals on the way, or the team will rustle you up some tasty grub from the support van – complete with tables and chairs for an alfresco meal. They'll also sort out snack breaks along the way. Dinner is up to you, but our lovely campsite partners can both provide dinner for us on site so you can relax and enjoying the beautiful surroundings.
HOW HARD IS IT?!
If you've still got your stabilisers on, this probably ain't for you – however, it's hardly the Tour De France, either. You are looking at covering about 45 miles a day (with snack stops and rest breaks, naturally) so please take this into account when deciding if this is for you – if you've never cycled very far before, have a good old think about whether you'd manage – and perhaps do a bit of training.
CAN I BRING MY KIDS?
The rides cover a fair old distance, so this is adults only really, though an exception could be made if you'd like to bring a particularly cycling-mad teen with you (aged 16+) who has previously covered distances like this happily. Drop us an email on richard@redfoxcycling.co.uk if you think your teen fits the bill and you're keen to get them booked on with you.
For more details of the Bristol – Shambala ride, head to Red Fox Cycling Tour's itinerary of the ride.
The route