Settle down for another #COVIDCREWSTORIES, from the-hostess-with-the-mostest turned NHS 111 call responder, Annabelle Holland. Annabelle usually heads up our venue The Social Club and can be found working in the circus community around the world. Here she tells us about her unexpected journey to being a frontline worker in the pandemic.
cw: sui, suicide mention.
FROM STAGE TO SAVING LIVES

From age 22 'til March 2020 (I'm not telling you how long that is haha) I've been a performer, producer, zone manager and director. Travelling all the time, making shows and friends all over the world. Hanging from ropes, throwing knives, making people laugh and cry! My world was colourful, ever moving and most of all about people – giving people a good time, on stage, backstage and in the audience. March 2020 hit and suddenly none of that existed.
What do you do when that happens? Well, I've never been one to wait for things to happen. I wanted to help straight away. I could see that my skills were transferrable and th
at I needed to be part of a solution. So I took a job with the NHS taking 111 calls on the Covid line. This happened very quickly, in a whirlwind. I was asked if I wanted to train to be a full 111 Health Advisor and so I did the training and exams with scarily high pass rates. My performing, management and street theatre skills of communicating with people – listening and being aware of how people are responding has come in very useful. The calls I take could be about anything; you never know what's going to happen when you answer the phone. I like being a calm voice to help people when they're scared, ill or injured.
If someone had told me I would be doing this even a month before it happened I would have laughed at them. I would never have envisaged I would be telling suicidal people to "put the knife down" when, usually, I'm the one throwing the knives. As an aerialist and knife thrower I was used to having people's lives in my hands and now if I make a mistake it could be life threatening to the caller in a different way; far more scary than my shows.
from showbiz to demands of the business
I now work for 22 hours a week taking 111 calls to support myself. The other days I leave open for creative work, and doing the odd live or online show when its possible. I never thought I would work in the same place for so long – I've only left Bristol 3 times since March. I've missed work in Australia, creative retreats in Iceland and shows all over. I miss my community and travelling so much but we have been there for each other in the virtual world. A true testament to the circus and cabarets community's strength!
Going to work in "business attire" is an interesting challenge when all the shops are closed. My wardrobe consists exclusively of casual, outdoor site clothes (steelies and hi viz) or irregular choice unicorn heels and a gold sequinned dress!
Some days it's a really hard job to do, some days it feels great. It makes a huge difference how the people calling in treat you. I've learned not to take things personally but when it doesn't go so well it's really difficult sometimes to stay helpful and upbeat especially when you are prone to sarcasm and dark comedy like I am! It's a good lesson in being a better person. Some calls can be upsetting, I have to remember that I'm a small cog at the beginning of getting someone the expert help they need and to let it go. It's not about me!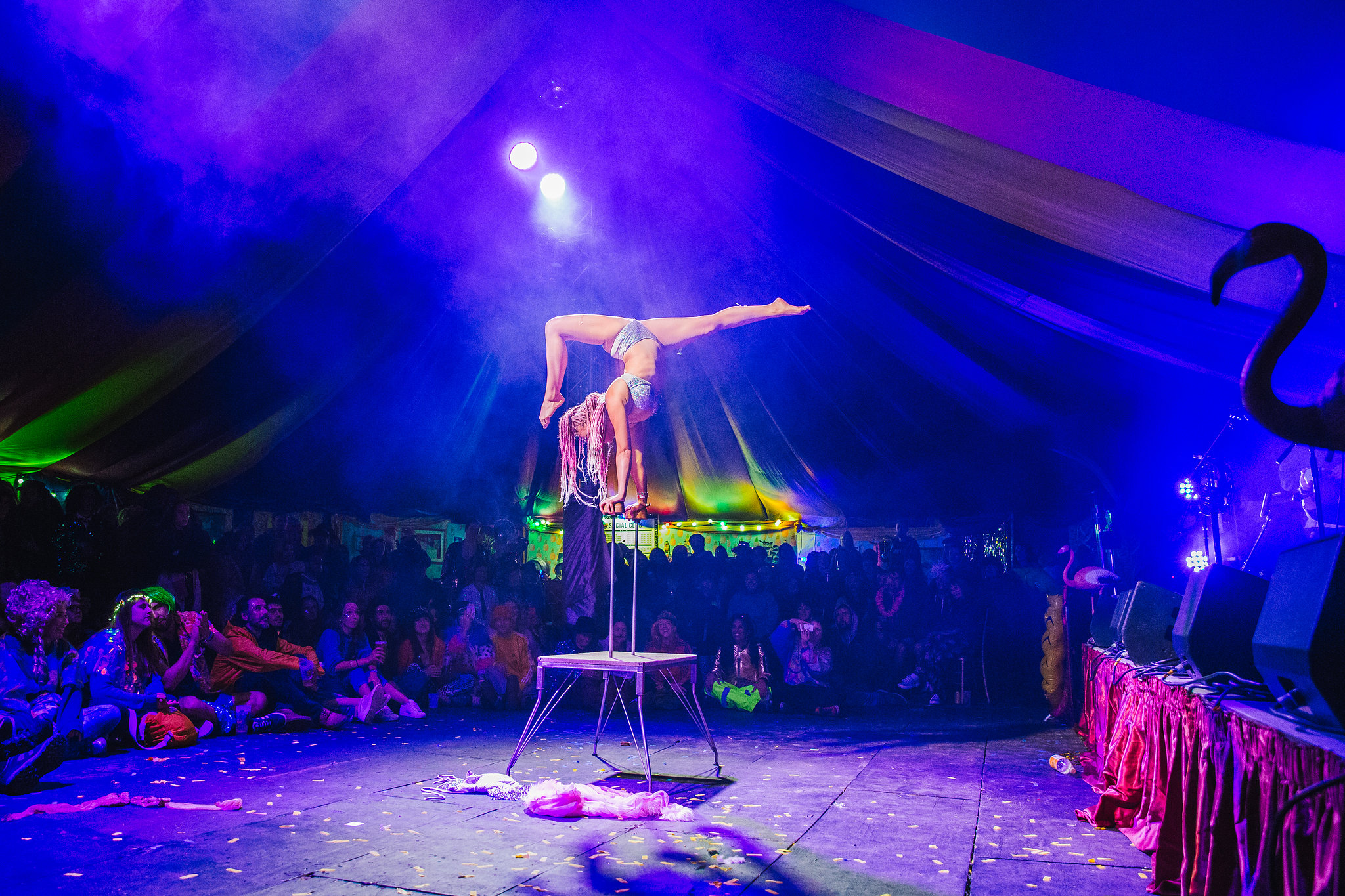 From Festival Crews to Covid Frontliners
The thing that has given me strength and inspiration is humanity, how it's all still about people. How our industry has been there to support each other and the wider community and the hope that that brings for humans at a time of uncertainty. I have friends and colleagues providing veg boxes to people who are hungry, giving people covid tests, building temporary covid test centres, making portable beds for the homeless, being porters and so much more. This is the time we need to look at the bigger picture, put our performers egos to one side and do the right thing if we can.
When friends tell me I'm doing a good thing I feel a bit embarrassed as I just did it without much thought or planning. I'm glad I had that impulse as I know I can support myself and that I still have some freedom to do the things I love with and for the people I love.
That said, I miss being on the move but every time I manage to do a show I feel alive and feel hope that one-day we will be back doing what we're supposed to be doing. I can't wait to be back on that stage in The Social Club doing shows for the amazing Shambala audiences. It's the thing that's getting us all through this crazy time. I feel lucky to be in a position to help people rather than being the frivolous thing on stage arsing about for once in my life!
Check out Glorious Productions, on IG and Facebook too.