We'd like to say a huge thank you to every one of you who took the time to fill in our annual, post-event survey, 'The Big Debate'. This feedback is incredibly valuable to us as it shows us what you can't get enough of, what to keep, what to switch around, and what needs improvement. This is your festival as much as it's ours, after all. Here's what we learnt…
Do you come here often?
Yes, apparently. A whopping 30% of those who joined us in 2019 had been five times or more, which we take as a serious compliment. We're so chuffed to be an annual fixture on so many of your calendars – long may that continue.
It's all about the vibe…
We asked you to vote on your top reason for coming to Shambala, An incredible 70% of the vote went to 'the atmosphere, people and general vibe'. We particularly loved the way this Shambalan phrased it…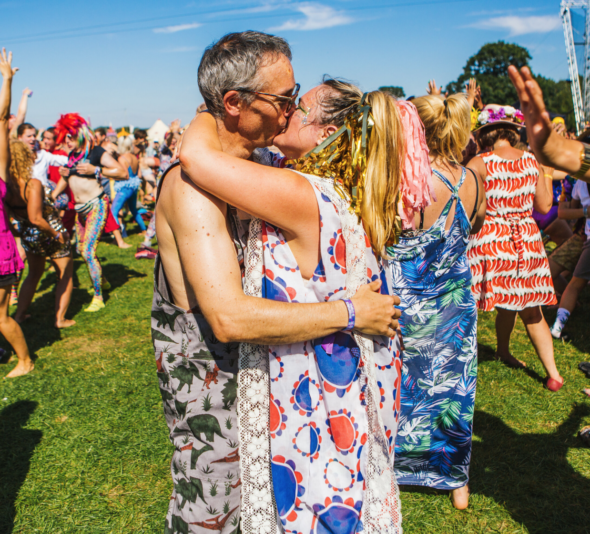 "There's magic in the woods. I'm a sensible, educated person but there is real magic that spreads out kind of like the upside down from Stranger Things but instead of being evil it's pure love spewing out. There is something I get from Shambala that can't be found anywhere else, I've come to understand it as pure love in it's rawest form, that tops me up and sends me on my merry way for the winter and helps me set my goals for the future and shape who I am as a person."
Party-cipation
At Shambala, our workshops and activities are every bit as important as the musical line up!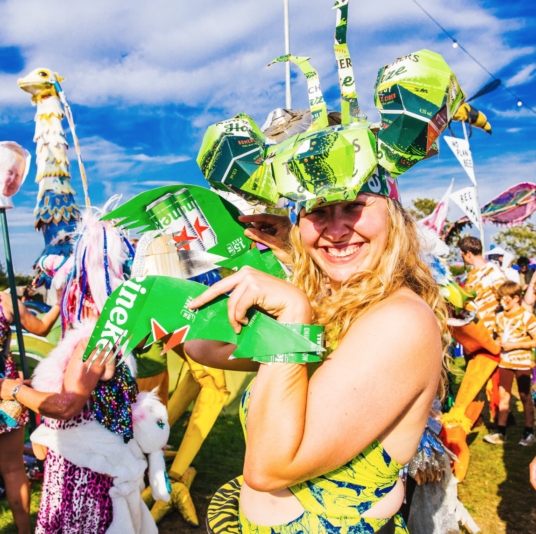 This year, you lot voted The Carnival Parade as your favourite non-musical activity. As ever, we were blown away by the creativity you showed with your costumes and thank you for taking us up on the challenge of conscious crafting – there was something incredibly poignant about all your plastic bag penguins, cardboard crustaceans and recycled rhinos.
Special commendations also go to Yoga (both the traditional and Power Ballad versions!), The Dance Off and The Closing Ceremony, all of which received a huge amount of love in our feedback.
Music to our ears…
"The music is often understated and unusual but quality… there is something for everyone and it feels like a voyage of discovery."
If you're after chart-topping artists and arena-filling headliners, we're probably not the festival for you. Our bookers are all about creating a line up that perfectly compliments the rhythm of the weekend and we choose our acts – headliners included – based on how much they blow us away rather than how 'famous' they are.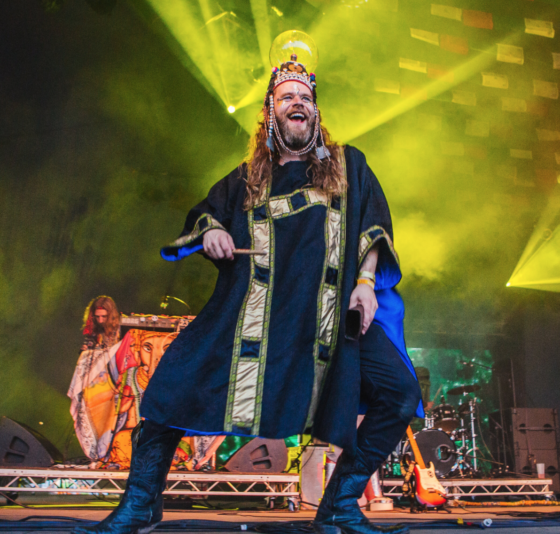 It's amazing to hear feedback on how much you appreciate our unique line ups – particularly how many of you trust us to unearth your new favourite acts for the year!
Huge shout out to our intergalactic friends, Henge, who you lot voted your favourite act of the entire festival this year after they blasted The Shambala Stage into space.
You lot can't seem to get enough disco, with four-on-the-floor beats being by far the most popular musical request – we'll endeavour to give your disco itch a big hearty scratch in 2020.
Those weird and wonderful little corners…
Shout out to 2019's new venues, which went down a storm – from the chintzy debauchery of Grandma's Living Room to the holy disco madness of the Shambarber Confessional Booth, the blistering live talent of the Bam Jam tent and the death-defying acrobatic skills of Gorilla Circus. Huge well done to all the crews involved.
In news that will surprise absolutely nobody, The Enchanted Woods took the gong for 'best area' for the seventh year in a row. Well done, Team Woods!
Here comes the sun!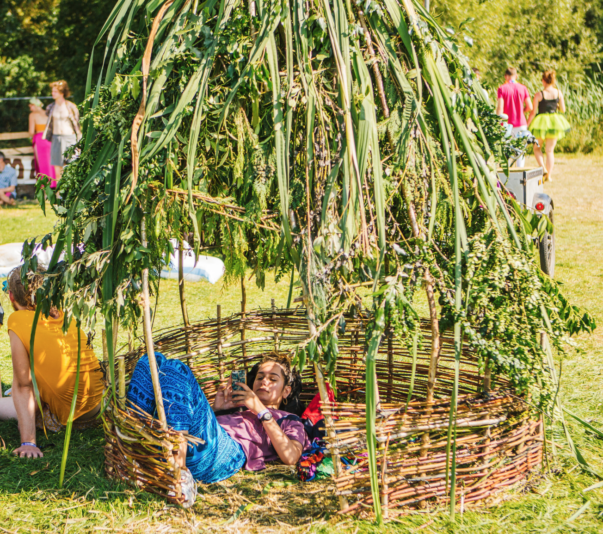 During what was a pretty volatile summer for weather, we were truly blessed with wall to wall, blazing sunshine. Whilst this is amazing for a multitude of reasons, it does throw up some challenges (eg: The Jungle Boogie turning into some kind of massive disco sauna) and also showed us we could do with some more options for shade around site – which could of course also be utilised for rain cover, should we not be so lucky with the weather next year. We're on it!
99 problems but a pitch ain't one…
We've traditionally been quite lucky when it's come to thefts on site, but after a small spate in tent thefts in 2018, we went all out in 2019 to combat this – tightening security significantly and running awareness campaigns.
We're very happy to say this seemed to do the trick, with only one suspected tent theft being reported to our team across the entire weekend. We won't rest on our laurels and will continue to keep campsite security stepped up, to show thieves that Shambala is not an easy target. Please work with us on this, by using your thousands of eyes and ears to spot anything suspicious and reporting it to our campsite hubs or security teams immediately.
The site, services and staff
78% of you rated our toilets 'good' or 'excellent'. At audience request, 2019 saw us keep the Red Sea Travel Agency's menstrual-cup-friendly loos open 24/7 – but we would also like to improve the facilities for menstruators across the whole site in future – watch this space.
Our bars, stewards and security teams deserve a big pat on the back, with 93% of our audience rating them as 'good' or 'excellent' – nice one, team!
Grub's up: Our food offering
"The crowd at Shambala is great and the food is one of the things that helps to shape/attract that crowd. I'm not vegetarian or vegan but the food at Shambala has over the last few years encouraged me to cut down my meat in take."
Shout out to The Happy Maki who were voted your favourite food trader of 2019 and no wonder – we see their vegan sushi burritos in our dreams…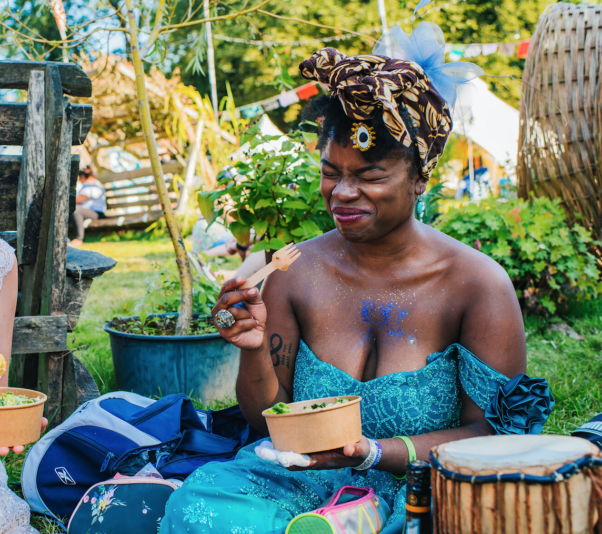 2019 marked our fourth year of being meat and fish free. We have no intention of changing this any time soon – especially as when asked, this year nearly 70% of you voted to keep Shambala meat and fish free, with an additional 19% requesting we go vegan.
Some of you would like to see more Gluten-Free/Coeliac options on our trader menus – we have heard you and will work to ensure this offering is improved for 2020.
Gone Off Milk: Did it all go sour, on site?
This year, we removed cow's milk from our hot drinks to highlight how small dietary changes can make a big environmental impact if done on masse. Whilst we were confident that the environmental science backed up our decision we weren't sure how this would be received on site – the British cuppa is sacred, after all.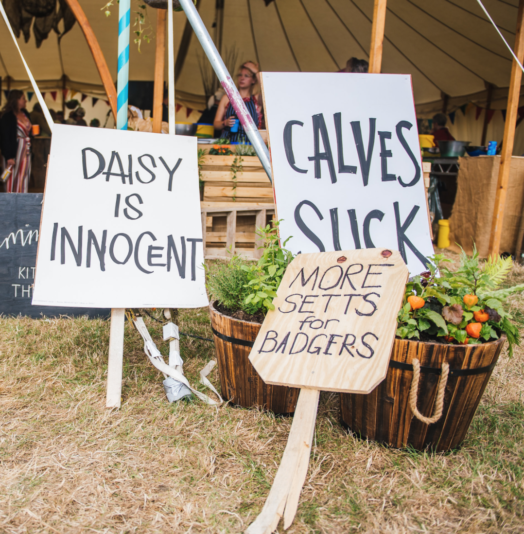 We needn't have worried – we were pleasantly surprised that nearly half of you (46.4%) reported not noticing a difference, showing just what a simple change this is to make.
13.6% of you reported being total converts to plant based milks after Shambala 2019.
You can check out the environmental impacts of this initiative in our Big Green Round Up 2019.
We are family
99% of families reported their needs were well catered for, and that there was more than enough to keep their children entertained on site, which is fantastic to hear. We were also pleased as punch to have more babies on site than ever before this year!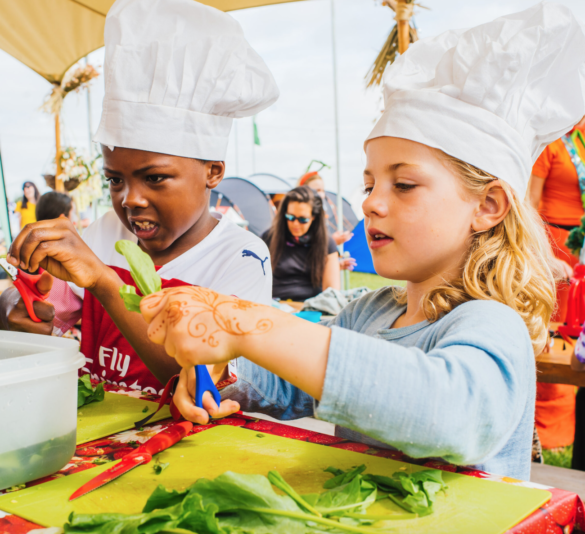 "There is such an amazing blend of wild youth abandon and family fun, both sides of the festival have respect for the other. It's like nothing else ever experienced. Each year my husband and I, our 3 children (7, 5 and 2) plus my mum; feel we evolve into better human beings"
Whilst we may have kept our families entertained all day, we also kept a lot of them up at night. We moved some of the venues in the main arena around a little in 2018, which resulted in late night noise levels in the family field being louder than we'd intended. We absolutely hear you on this and we'll make sure it's sorted for 2020, so your babies can sleep like… babies.
So 'Appy together
Now in it's third year, our (free!) listings app is improving year on year, with 75% of you downloading and using it in 2019. The vast majority of you rated it's usability as 'good' or 'very good' – and we've collated your feedback on how it could be improved for 2020 and are working to action your recommendations.
This year, we launched our 'Community Events Listings' through the app, enabling our audience to share events, meet ups and happenings in their areas with other Shambalans.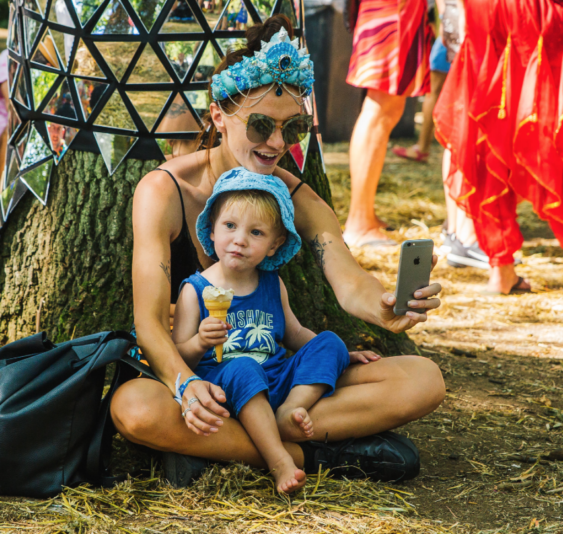 Anybody with the app can check out the events calendar (just open the app and select the Community Events section) but to upload an event, you needed to 'validate your token' on site. Whilst around 1,000 of you managed this successfully, a glitch on the app meant many of you were not able to do this.
We're working on a patch to fix these issues, in the meantime even if you don't have a token, do keep an eye on the Community Events listings on our app – there's some amazing stuff happening on there!
Overall, 2019 was a blinder of a year, one of the best in our memory. A lot of this was down to you lot bringing your A-game. You truly are a dream audience, throwing yourselves into all aspects of the festival with wild abandon, whilst treating each other (and our amazing crew) with kindness and compassion. The vibe you bring is what makes Shambala what it is and we're eternally grateful. A huge thank you also to our artists and wider team for what was truly a vintage, sun soaked year. We can't wait to celebrate a whopping 20 years of adventures in utopia with you in August.
So much love,
The Shambala Team x