With planned school walk outs happening across the world it is clear the youth are mobilising to fight for their planet. The fact we've got kids as young as five organising class petitions and staging strikes is a sign of the dire straits we are in, but also a massive source for hope!
We caught up with the UK Youth Climate Coalition (UKYCC), a group of volunteers aged between 18-29, hell bent on inserting the youth's voice into environmental campaigns at local, national and international levels. With a mighty slice of Shambalans fitting into the "millennial" sub-generation of the young and not-so-young youth, we found meeting a group of similarly aged eco-warriors inspiring and empowering!
We spoke to Katie, a UKYCC campaigner, Bristol's YouthStrike4Climate organiser and volunteer at Shambala's NOSH café and Zoe, campaigner and Coordinator of the UKYCC's COP working group.
What are the obstacles for young people taking action today?
Z: It has to be politicians not taking us seriously, or tokenising our voices. We have a lot to say, and social media has proved an important tool for us establishing our own platforms – but for real meaningful climate action we need UK policy makers to listen to young people. We have been trying to meet with our Minister for Clean Growth, Claire Perry, for months and she is absolutely avoiding us at all costs.
As more and more of us do what we can to be live a low carbon and ethical lifestyle (eating less meat, using less plastic, flying less etc.), it is a fundamental betrayal of our government to not to commit to decarbonising the UK's energy! They bring in a plastic bag tax and then call themselves 'climate leaders'!! We are all doing what we can, now its their turn.
K: Well firstly it's the voting age. If one vote equals one voice, then are under 18s – 21% of the population – left in silence? It's these futures that are the most in jeopardy from climate breakdown, yet it's these voices that are being excluded from the conversation. The #FridaysForFuture and the school strikes movement are a refreshing reminder of democracy outside of the polling station. The growing hum of disquiet is amplifying – now we just need people to listen!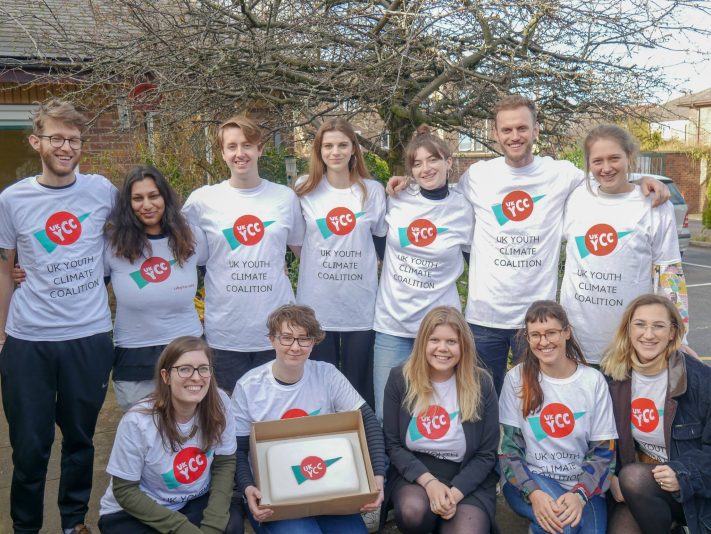 We really loved your Intersectionality series, looking at bringing in more diverse and layered stories into the environmental movement. Who do you think is doing important intersectional climate work? G'us a reading list!
Z: This is so so so important!!! I just finished reading a book called Nature is a Battlefield by Razmig Keucheyan – it lays out how environmentalism would not be where it is today without the (often ignored) black environmental justice movement, born from the civil rights movement. Throughout the 1980s, these activists were protesting against the US government and corporations dumping toxic waste in majority black neighbourhoods – showing how we can't think about protecting the environment without dismantling social injustice. Activists like these get forgotten, despite their incredible work. And the lessons are still so relevant today – for instance, Black Lives Matter released a short video a few years ago showing how air pollution in London affects majority BME communities.
This was a pretty heavy book though – if this isn't your style then I learn so much from Instagram all the time, some great ones to follow are @IndigenousRising, @pacificclimatewarriors and the @foodempowermentproject.
K: A 10/10 must read is 'Why Women Will Change the World' by Friends of the Earth. It draws together a collection of essays and initiatives from different global voices, and in doing so reminds you of the bad-ass revolutionary magic of womxn !
What's your favourite campaign that UKYCC has done? What are you most proud of?
Z: I am so proud of the work that everyone does – we are entirely voluntary, so everything that happens is done by people who are in full time jobs or study. I am particularly proud of the work we have done, along with loads of amazing other organisations and grassroots activists, to combat fracking in the UK. 
K: We partied in Sheffield with samba bands and protestors; we linked arms with the anti-fracking fighters at the Preston New Road fracking site, blockading the entrance for 3 days straight, morning and night; we created a campaign that got over 500 young people writing to MP Claire Perry to ban fracking; we took these conversations international to COP23, inviting Ruscoe of the Frack-Free Three to join us. 
But amongst this constellation of change, my own fleeting favourite was our 24-hour hunger strike. In protest of the inhumane treatment of women detained in the Yarl's Wood immigration detention centre we joined their #FREEDOMFAST in solidarity. Depriving my own body of sustenance reminded me of our one common denominator: food. We all need to eat. In a world of divide and segregate it is easy to forget that we are the same: we are all human. And on eating that first meal, I hear you ask, was my appetite for change satiated? Nope, it only made me hungrier.
Beyond UKYCC, who's doing the best, most creative activism right now?
Z: I have to shout out Extinction Rebellion, they have galvanised so many to action in such a short period – it's a really exciting time! But beyond the UK, so many youth environmental activists are risking so much in their dedication to the cause – for example Engajamundo, the youth activists from Brazil, whose fight has just got that much harder with the election of President Bolsonaro. Frontline activists and indigenous groups all over the world are fighting an uphill battle to get their voices heard by their governments and the international community, with a fraction of the resources of those they are facing. In the news right now the indigenous Wet'suwet'en nation in Canada are protesting a multi-billion dollar natural gas pipeline – and this is happening all over the world.
K: Well I've got to give a standing ovation to Greta Thunberg. Greta is a 16-year old Swedish activist, who humbly sat outside the Swedish embassy one Friday afternoon when she should have been in school. Armed with no more than a homemade sign, she protested the lack of teaching about climate change in her syllabus. Fast forward 28 weeks later, Greta, now world-renowned, has galvanised the #FridaysForFuture campaign and the #YouthStrike4Climate. In the UK alone the next strikes on March 15th have over 60 confirmed locations. Globally, over 50 countries will see students and young people striking from school to protest the government's inaction over climate change.    
How would you empower other young people to get involved in climate activism, what do you need to join the climate movement?
Z: Basically, if you want to get involved with the climate movement then just do it! Reach out to us, or any group you are interested in and they will honestly be happy to hear from you. We need momentum! We need energy! We need people willing to help hold our government to account!
We need so many things: artists, film makers and people who can communicate these important messages in a way that is engaging and understandable. We need people willing to go out and protest on the street. No matter where your skills and interests lie, there is a place for you within this growing movement. For change to happen, there needs to be as many of us as possible.
Would you say young people are uniquely positioned to do good climate work?
Z: Not uniquely, but we are a crucial part of the conversation. There is a lot to learn from our elders – we don't want to repeat their mistakes!
K: One thing we champion at UKYCC is a 'positive vision'. There is so much alarmism and fear – rightly so – but I think that young people have a beautiful predisposition for keeping it fun and fresh. As Emma Goldman famously said 'if I can't dance, it's not my revolution!'
If a venue at Shambala had to take over the running of the world, who would you back to do it best?
Z: It's gotta be Botanical Disco – just greenery and good vibes.
K: Barrio Africa! Our struggle is global and our struggle is intersectional. The climate breakdown has been orchestrated by the hands of the Global North, paid for in the land and livelihoods of the Global South, yet still the dominating voices are coming from the Global North?! Let's be frank, we've made a real mess – time to hand it over (with some sweet afro beats!)
What's on the soundtrack to your green revolution?
Z: Surprisingly there isn't that many songs about climate change… let's go with Feels Like Summer – Childish Gambino, Go Your Own Way – Fleetwood Mac
K: Nick Mulvey packs of surprisingly political punch! His song 'We Are Never Apart' became our official soundtrack to our anti-fracking campaign with lyrics like 'Even though Lancashire said no, Cuadrilla say they're fracking anyway' snuck into a beautiful song.
                                                                 . . . . . . 
Follow UKYCC on Instagram and Twitter on @_UKYCC_ and @ukycc
Join in with Youth Climate Strikes happening globally in 1325 locations worldwide on Friday 15th March.