Here we go! The nights may be drawing in and the temperature may have dropped but we've got our minds set on next Summer already, and have a whole heap of exciting, brand new additions to tell you about in the coming months – from dazzling, brand new live music stages which are set to blow your socks off, to all manner of new, immersive silliness. But first – ticket launch!
We want your ticket buying process to be as smooth as possible – and some aspects have changed for this year, so please read this email in it's entirety, to avoid any annoying snags on the day (see our 'top tips' for booking at the bottom of the email, along with our 2024 ticket prices)
🌻 Once again there will be several sustainable travel packages on offer, enabling you to arrive at Shambala by train, coach or bicycle. Over a third of you arrived at Shambala this way in 2023 👏 This year, each of these packages are £30 cheaper than general entry at every tier so you can save cash whilst saving carbon – a thank you from us, for helping reduce our carbon footprint.
🌻 NEW: This year, if you're coming on a 'Rail Traveller Combo' adult ticket, we'll need you to also pay for your return shuttle bus from the station to site in advance (more on that in the Rail Traveller section below). Shuttle bus tickets will still be available on the day to non Rail Traveller Combo ticket holders
🌻 There will be instalment plan tickets available at every tier and for every sustainable travel package, to enable you to spread the cost of your tickets over several payments, should you wish. Keep reading for more info on those!
CAN YOU PAY IT FORWARDS & SHARE THE LOVE, WHEN BUYING YOUR TICKETS?
When purchasing your tickets, you'll see an option, on the ticket page, to make a donation to 'Pay It Forward'. There's absolutely no pressure, we know lots of people are feeling the pinch – but if you can spare so much as a few quid, it all adds up.
100% of these donations are used to create full 'festival access packages' for folks in the areas local to Shambala, who have never been able to attend before, due to financial barriers. So – even if you can only spare 50p or a £1, when buying your 2024 tickets, it all adds up, and it's super quick and easy.
Click HERE for an update on how these funds were used in 2023, and the impact this had on the people we were able to welcome to the festival for the first time – and to find out just how much you generous souls raised for this initiative, this year!
The Shambala community is amazing. By pulling together, we have the power to make a real difference, break down barriers and share the love.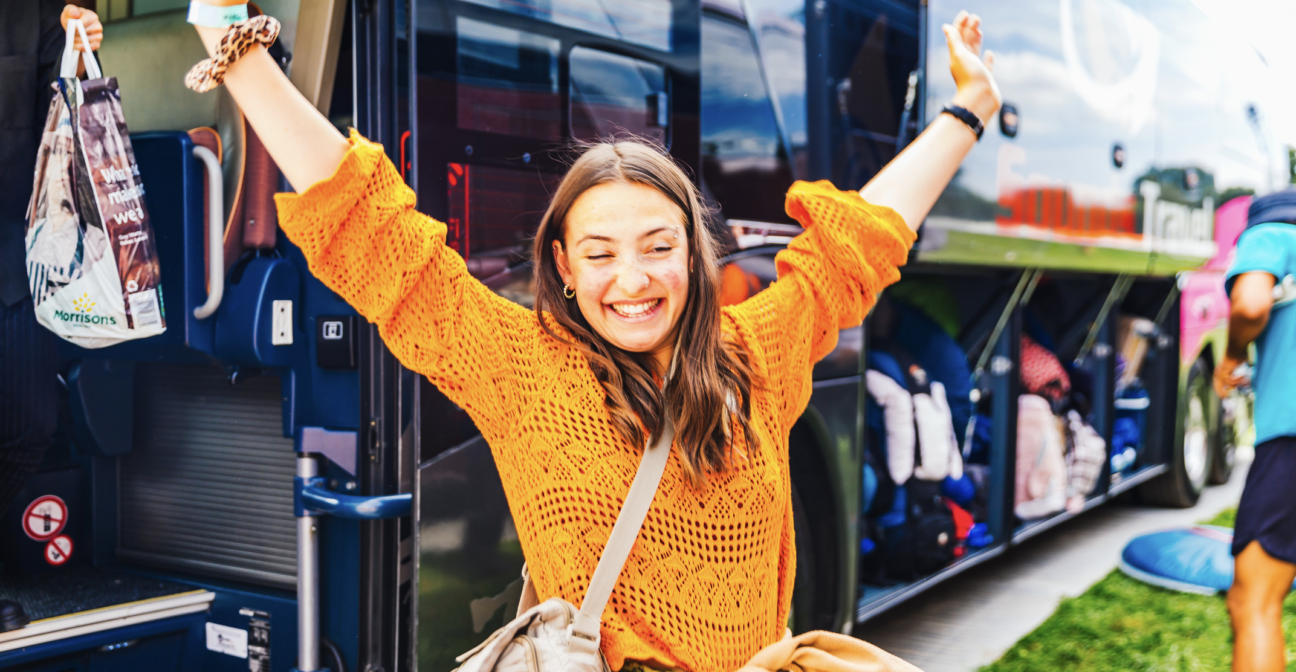 SAVE CASH (& CARBON!) BY CHOOSING ONE OF OUR SUSTAINABLE TRAVEL PACKAGES…
Each of these packages will save you £30 per adult ticket, at every tier! Please note, each of these packages are strictly only valid for entry if you arrive by the specified mode of transport attached to your ticket.
RAIL TRAVELLER COMBOS:
Last year, we launched a new option especially for train travellers. These were a roaring success and snapped up quick smart, so this year, we have got more of them available for you. As in 2023, for these tickets to be valid for entry, you MUST arrive, by train, at either Market Harborough or Long Buckby train station, and from there, board our dedicated shuttle buses to site.
NEW for 2024: You will be required to choose and pay for your shuttle bus journey from either station, in advance, via our ticket page. This will cost £10 for the return journey. (Don't worry, you don't have to choose a specific time or anything, just which train station you'll need the shuttle from, on which day.)
Travelling to Market Harborough station? The Market Harborough station shuttle bus runs throughout the day on both Thursday (22nd August) and Friday (23rd August) so you can arrive on either day. Make sure you select your day of arrival when prebooking your shuttle bus.
Travelling to Long Buckby station? The Long Buckby station shuttle bus runs throughout the day on Thursday (22nd August) ONLY – so if you're coming via Long Buckby station, you must arrive on Thursday.
Upon arrival at the festival, via the shuttle bus, show our gate staff proof of your train ticket and in you pop!
SHAMBALA EXPRESS COACH PACKAGES:
No real change here to previous years, apart from the fact you now save £30 by booking a coach package rather than £20!
As usual, our coaches will run from Bristol, Brighton, London, Birmingham, Manchester and Sheffield.
Remember – even if you don't live in one of these cities, many of you will pass through them on your way to site anyway (eg: the vast majority of our Southern Shambalans will pass through Birmingham on route – so why not get yourselves there and let the Shambala Express take you the rest of the way?)
All coaches and coach tickets are for departures on the Thursday of the event ONLY and all coach tickets include return travel on the Monday after the show.
RED FOX CYCLIST PACKAGES:
Once again, we're partnering with Red Fox Cycling, to offer guided bike rides from different cities to Shambala. Our bike rides run from Bristol, London and Birmingham.
Cyclist Tickets are only valid for entry when booked in conjunction with a Red Fox guided bike tour.
These guided tours costs half what you would expect for a regular cycling holiday, so this really is a bargain. Take the scenic route, stop at beautiful campsites along the way and arrive at Shambala with a host of new pals.
INSTALMENT TICKETS – PAY IN MANAGEABLE CHUNKS OVER THE YEAR
Every type of adult entry ticket will also be available as an instalment ticket type, meaning you can secure your ticket for as little as £54 and pay off the rest in manageable chunks over the course of the year.
An initial down payment is required, followed by 3 further payments on Feb 7th , Apr 3rd & June 5th. Payment amounts will vary, depending on which tier or ticket type you purchase.
As usual, instalment plan tickets are non-refundable, due to the heavy administrative burden of payment plans, and the costs involved in setting these up.
Instalment plans are automated. You buy the initial ticket with future payments deducted from your nominated account on the specified dates. You must keep your card and email details up to date in your TTS account.
If there are insufficient funds in your account, or your payment card details have changed and you forgot to update them and an instalment bounces, you'll then have until 48 hours before the next payment is due, to make the missed payment manually.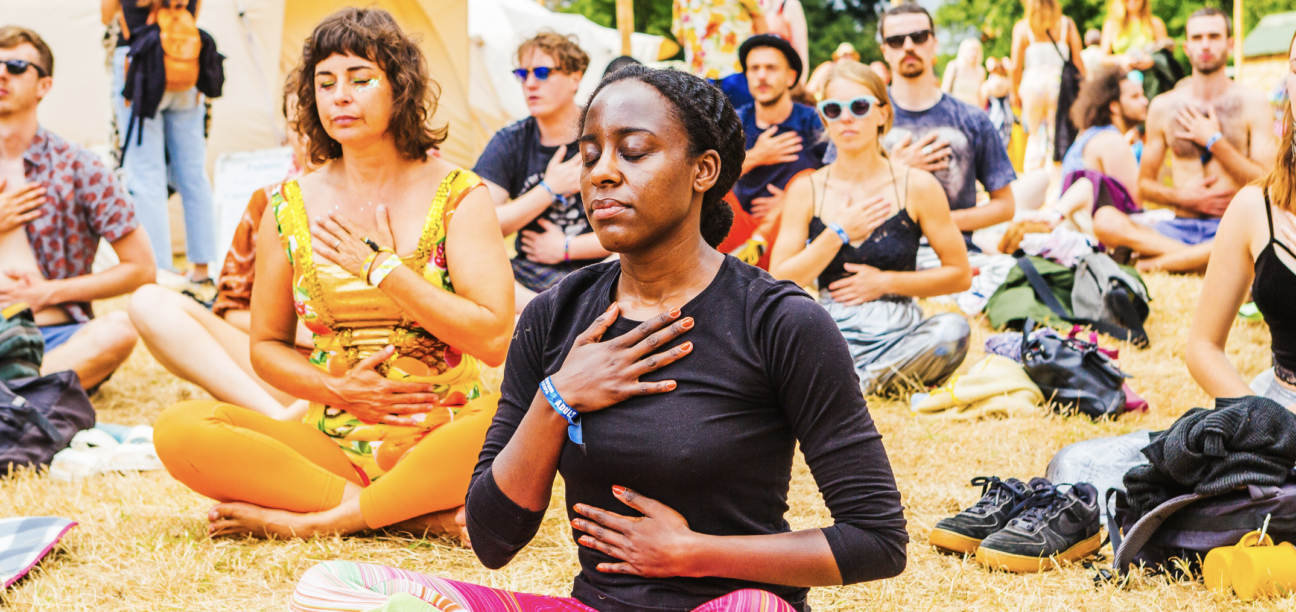 10 TOP TIPS FOR A SMOOTH BOOKING PROCESS
We appreciate the following is wordy, but please do wrap your eyes and brains around it in advance of ticket launch day, it really will help.
1. The TicketSellers remain our ONLY ticketing agent. Avoid scammers and don't buy from any other source. Refunds are available up to 4 weeks ahead of the event on all tickets except instalment tickets.
2. Adult ticket prices range from £219 – £259 for sustainable travel packages (dependant on tier). Standard entry tickets that are not part of our sustainable travel packages are £30 more expensive at each tier + booking fees.
3. If you've never purchased tickets through TicketSellers before, save time by creating your account in advance of launch – you can do that HERE.
4. If you have booked through TicketSellers before, double check you have your log in details to hand, to avoid forgotten-password drama on the day. Check your log in details here.
5. Make sure you have your debit/credit card ready (and a spare if possible – some banks decline one-off payments) that matches your billing address – and be ready to receive text messages/log into banking apps to approve the purchase.
6. We require names/email/phone numbers for all adults you're booking tickets for, plus a name and emergency contact for U18s. You can change the names and details on each ticket at any time before the event by logging into your TTS account.
7. Choose your tickets and click 'Reserve Tickets' at the bottom of the page – your tickets aren't reserved 'til they're in your basket!! You then have 25 minutes to complete the purchase.
8. It's usually only the adult entry tickets and campervan passes that fly out the door – you may want to concentrate on bagging those first and log back in later for less high-demand extras (car park passes and kids tickets).
9. Tickets are spread across 3 'tiers'. The lower the tier, the cheaper the ticket price, as a reward for early booking, so select the lowest tier you can. Note that some lower tiers may temporarily show as sold out before reappearing (this is due to people popping them in their baskets but not completing purchase).
10. Extras and add ons such as glamping will go on sale separately, in the new year, and we'll make sure we email all ticket buyers with a heads up once they go live.
We hope to see all your beautiful faces again, next August.
Big love x